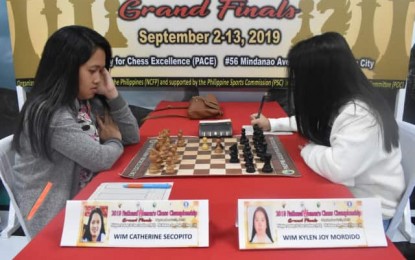 MANILA – Former Shell National Youth active chess champion, Kylen Joy Mordido, and former Asian junior girls' titlist, Mikee Charlene Suede, on Thursday pulled off back-to-back victories in the second and third rounds to keep a share of the lead in the 2019 National Women's Championship – Grand Finals at the Philippine Academy for Chess Excellence (PACE) in Quezon City.
Mordido, who made history by becoming the first female player to capture the Shell National Youth championship in 2017, defeated Women Candidate Master (WCM) Mira Mirano in the second round and Women International Master (WIM) Catherine Perena-Secopito in the following round, keeping her perfect record with three wins in as many matches.
The Dasmarinas High School standout debuted with a resounding victory over May Ann Alcantara in the first round last Wednesday.
Equally impressive was WIM Suede, who followed up her marathon first-round triumph over Natori Biazza Diaz with a sweep of Alcantara and Mirano.
The 3/3 score enabled Mordido and Suede to take a half point lead over WIM Marie Antoinette San Diego and Women FIDE Master Shania Mae Mendoza going into the fourth round of this prestigious 14-player tournament organized by the National Chess Federation of the Philippines (NCFP), headed by president/chairman Prospero "Butch" Pichay and supported by the Philippine Sports Commission (PSC), led by chairman William "Butch" Ramirez.
San Diego halved the point with WIM JanJodiyin Fronda in the second round late Wednesday and won over Rizalyn Jasmine Tejada in the third round the morning after.
Mendoza drew with Secopito and won over untitled Samantha Umayan.
Three players -- top seed WGM Janelle Mae Frayna, WIM Bernadette Galas, and Fronda – share fifth to seventh places with 2/3.
Frayna settled for a draw with WFM Allaney Jia Doroy in the third round following a win over Umayan the previous round.
Galas defeated Diaz and drew with Alcantara, while Fronda split the point with San Diego and won over Diaz.
Doroy is in solo eighth place with 1.5 points on one win, one draw, and one loss so far.
Tournament director GM Jayson Gonzales said at stake in the tournament are slots to the Philippine team to the World Chess Olympiad scheduled in Khanty-Mansiysk, Russia on Aug. 1-15, 2020.
The champion in the standard chess competition will also receive the top prize of PHP25,000 and s trophy.
The runner-up will receive PHP15,000; the third placer, PHP10,000; and fourth placer, PHP5,000. (PR)