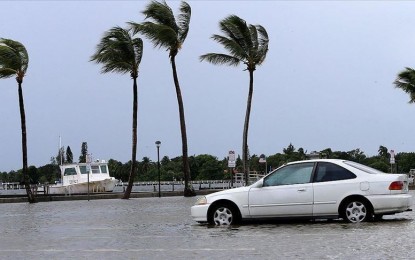 ANKARA -- Hurricane Dorian is expected on Thursday to hit South and North Carolina, and portions of southeast Virginia with 'life-threatening" floods, according to the US National Hurricane Center (NHC).
"Life-threatening storm surge and dangerous winds are expected along the portions of South and North Carolina coasts, and portions of southeast Virginia and the southern Chesapeake Bay, regardless of the exact track of Dorian's center," the NHC said in a statement.
During the day, the storm packed winds of 177 kilometers per hour (110 miles per hour) moving northeast at 12.8 kph (8 mph) as a Category 2 hurricane.
It regained power later in the day, rising to Category 3, with a speed of 185 kilometers per hour (114 miles per hour).
Authorities warned the water levels could rise well in advance of the arrival of strong winds.
"Residents in these areas should follow advice given by local emergency officials," the center added.
The NHC underlined the flash flooding will become "more widespread across the eastern Carolinas and far southeast Virginia today into tonight."
A "high risk" of significant and "life-threatening" flash floods is expected over these areas, it said.
More than 220,000 homes and workplaces suffered from power cuts in Georgia, South and North Carolina.
In the Bahamas, Hurricane Dorian killed 20 people, hitting as a Category 5 hurricane.
The images released by the American Aviation and Space Agency (NASA) reveal the extent of the destruction caused by the hurricane in the Bahamas.
The United Nations, which sent a team to the Bahamas for damage assessment, said that 70,000 people needed immediate humanitarian assistance such as food and clean drinking water.
Anadolu Agency makes live broadcasts and provides instant photos and images of the states affected by the hurricane. (Anadolu)