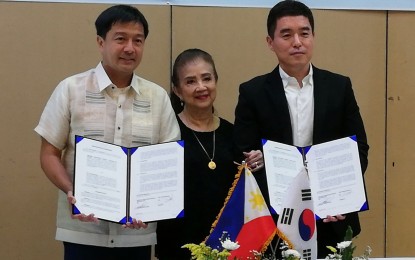 BACOLOD CITY -- Homegrown firm Amatera Renewable Energy Corp. has entered into a memorandum of agreement (MOA) with Korean partner TPC Construction Corp. for the development of a 50-megawatt solar power plant in Barangay Vista Alegre here.
The agreement for the project, which has an estimated cost of PHP2 billion, was signed by Amatera chief finance officer Ramon Luis Lacson and TPC Construction president Charles Ji in a ceremony at L' Fisher Chalet on Friday.
"As a Korean, it was very difficult to do business in the Philippines, but I feel infinite pride in being able to do an MOA of solar energy business today," Ji said in his message during the event.
He said the photovoltaic solar power farm will be developed "based on Korea's superior technology".
"We will prepare thoroughly to ensure that construction and operation will not be disrupted," he added.
Ji thanked the Lacson family, owner of Amatera Renewable Energy Corp., for working with him in his first business venture in the Philippines.
Meanwhile, Lacson acknowledged the trust of the Korean firm TPC to their family as the project partner.
"From the bottom of our hearts, Charles, thank you for trusting our family, and we also extend our trust in you. We hope that this renewable energy project will deliver power to our city, which is a clean and more progressive type of energy that will be appreciated by our children and our children's children," he added.
Lacson said TPC Construction is expected to look for investors and start the construction within a year after the signing of the agreement.
"We will have to push that they can start within a year," he added.
Vice Mayor El Cid Familiaran and Vista Alegre village chief Jose Maria Leandro Roberto de Leon, chief operations officer of Amatera, also graced the MOA signing.
Amatera is leasing the 74-hectare Lacson family land for 25 years to the Korean firm for the first-ever large-scale solar power project in Bacolod.
In early 2016, Amatera secured a clearance from the Department of Energy to do grid impact studies on the Vista Alegre property. Its project was then included on the DOE's list of awarded solar projects in June that year.
During the signing of the memorandum of understanding last January, technical consultant Hanshel Layaoen said the partner-developers aim to start the commissioning by 2020, which is also the scheduled completion of the Cebu-Negros-Panay 230-kilovolt Backbone Project of the National Grid Corp. of the Philippines. (PNA)