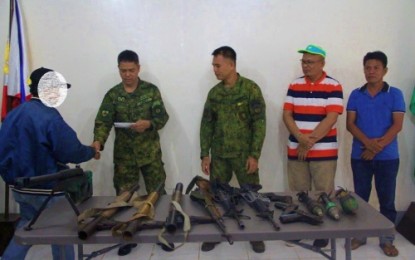 RAJAH BUAYAN, Maguindanao -- Fourteen members of outlawed Bangsamoro Islamic Freedom Fighters (BIFF) on Saturday voluntarily surrendered to military and local officials here hoping to live normal lives anew.
Lt. Col. Elmer M. Boongaling, the commander of the Army's 33rd Infantry Battalion (33IB), said the surrender came after they initiated talks with one of the factions of the BIFF operating in Sultan sa Barongis, Maguindanao.
A sub-leader of the BIFF and 13 of his men positively responded to the Army's peace and development advocacy program.
The group turned in three rocket-propelled grenade (RPG) launchers, two M16 Armalite rifles, a .45-caliber pistol, an M14 rifle, one 9mm Uzi submachine pistol, and one homemade .50-caliber Barrett sniper's rifle to Boongaling and 601st Army Brigade commander, Col. Jose Narciso during the turnover ceremony.
"I have been a rebel since 1972 and being so did not give me and my family any good, I am looking forward to the future of my children," said the former BIFF commander who requested anonymity for security reasons.
"The BARMM is in place, I and my men now believe we no longer have reasons to rebel against the government," he said referring to the new Bangsamoro Autonomous Region in Muslim Mindanao set-up.
"The 33IB is always open to any rebel who wishes to embrace peace," Boongaling said.
"We are ready to talk peace to all enemies of the state for the sake of their children and families."
Narciso lauded the rebels for choosing the path on returning to the mainstream society.
"I am happy for your decision, your government is always ready to accept those who wish to surrender peacefully," Narciso said.
The surrenderers will receive cash and livelihood assistance from the Maguindanao provincial government, including free education for their children and medical assistance.
Maj. Gen. Diosdado Carreon, commander of the Army's 6th Infantry Division, also lauded the initiative of the 33IB and congratulated the rebels for their right decision to yield. (PNA)