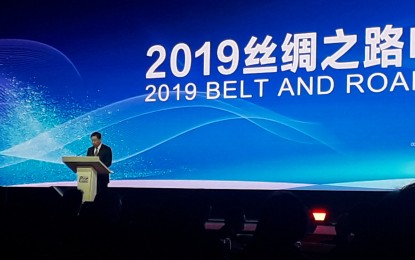 BEIJING – The Belt and Road Media Community (BRMC) has launched the founding members of its council during the 2019 Belt and Road Media Community Summit Forum here Tuesday.
The first BRMC Council is composed of 29 members from various media organizations from nations under the Belt and Road Initiative (BRI) including Russia, Algeria, Thailand, and Myanmar, as well as the United States, and some European countries like Germany, the United Kingdom, Portugal, and Spain.
The BRMC was initiated by China International Television Corporation in August 2016 as a film and television media alliance promoting BRI stories.
It now has 130 member institutions including television and radio broadcasting organizations, film and TV producers and distributors, video websites, and social media platforms from 58 countries around the globe.
In his opening remarks, Deputy Minister of Publicity Ministry of Central Committee of the Communist Party of China Wang Xiaohui said the founding of the council will bring the cooperation among BRMC members into new heights.
"The Belt and Road Media Community will play the role of a cooperation platform," Wang said.
"We will innovate the way we work together and expand the areas we work together and improve the quality of the cooperation," he added.
Wang said with the Council's collective ideas, high quality cooperation and sustainable development in the media will be expected in the future.
He cited areas of cooperation for the BRMC members include promoting the Silk Road stories, deepening international cooperation and media exchanges, and seizing the opportunities from new technologies such as 5G, virtual reality, and artificial intelligence.
"I hope that the media can cope and also conform to the trend of the major development. We can share information and resources. We can increase cooperation in co-production and improve the bilateral and multilateral exchange mechanisms," Wang said.
Meanwhile, the BRMC has welcomed seven new members.
It also launched new media cooperation with Germany, the UK, Italy, and Mongolia. (PNA)