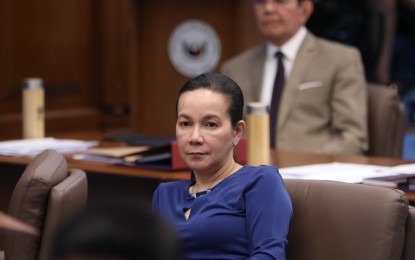 MANILA – Senator Grace Poe on Tuesday set some preconditions for the consideration of a measure seeking to grant emergency powers for President Rodrigo Duterte to address the country's traffic woes.
During the Senate Public Services Committee hearing, Poe said the proposed emergency powers must be tied to a traffic action plan with targets and deadlines to ensure accountability.
"No accountability, no deal. Siyempre kapag mayroon tayong kapangyarihan, mas malaki ang responsibilidad. Hindi puwedeng puro powers lang pero walang plano (Of course, great power comes with greater responsibility. We can't just grant powers without concrete plans)," Poe said.
Poe said the Department of Transportation (DOTr) must also be fiscally responsible by providing a specific list of projects that will be covered by the emergency powers.
"This bill is not a credit card for DOTr's Christmas wish list. It is closer in nature to a Public Works Acts which contains a detailed list of projects and sources of appropriations," Poe said.
"Hindi tayo dapat mabaon sa utang na hanggang sa ating mga kaapu-apuhan ay ating babayaran (We should not be buried in debt that even the future generations would be burdened to pay)," she added.
Poe said there must also be a "Freedom of Information seal of approval" to promote transparency for the infrastructure projects that the government will undertake in relation to the worsening traffic.
"These conditions are not unreasonable. We have to make sure that any grant of emergency powers is placed in responsible hands. Even better if our existing laws can be harmonized with creative transport plans without the need for new powers," she said.
Poe stressed the need to craft a transportation system masterplan which identifies short, medium and long-term projects with sufficient funding and achievable deadlines.
"We need implementation, implementation, implementation. I think no other urban area in the world has a longer list of unimplemented plans and decades of study than Mega Manila," she said.
She also noted that the problem lies in the absence of a master plan, not in the lack of powers.
"It is not the lack of powers but the lack of a master plan. We have an approved dream plan but it is unclear if our transport agencies have adopted it for implementation. The cost to implement the dream plan is less than what we are losing daily due to the traffic problem," she said.
The senator said there are already existing laws that are sufficient for the purposes of procurement and right-of-way acquisition.
"The Supreme Court already issued cases and circulars addressing the delays in these cases. Clearly, for all intents and purposes, under these existing laws, a lot could've been done with or without emergency powers," she added. (PNA)