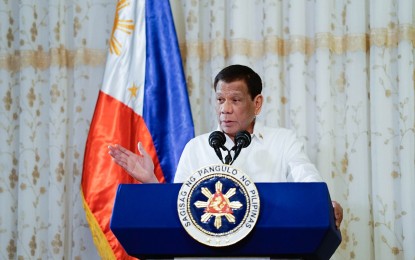 MANILA -- The all-out-war against armed rebels by the Duterte administration will continue until all members of the New People's Army (NPA) have surrendered, President Rodrigo Duterte said.
"I have ordered the Armed Forces and the police to go attack full-scale. Kung hindi natin maubos ito, sa panahon ko (We'll see if we can wipe them out in my time). And looking at the political horizon there, kung sinong mag-presidente (regardless of who becomes President), I'm so pessimistic," he said during a speech at the 2019 Outstanding Government Workers Awards rites Tuesday.
Compared to the previous administration's call to war against insurgency, Duterte said his directive to the security forces would be different.
"(In the past) when they are already in hot water, binibitawan sila. Nilalaglag sila. Mismo 'yung mga bunganga diyan sa Congress, nilalaglag sila. Dito sa akin, sige, (They are being dropped. Those mouths in the Congress are pinning them down. As for me, it's fine,) you just do your duty in accordance with law. Ako ang mag-amin sa lahat (I will admit everything). I take full responsibility," he stressed.
"Gusto ko kung maari lang, tapusin ko sa panahon ko (If possible, I want all of this done in my time)," he added.
Duterte lamented that he even went out of his way to resolve the issue with the communists and even appointed hardcore Communist Party of the Philippines members to his Cabinet. This, as he also initiated talks within the very walls of Malacanang.
"The Tiamzon even. Pumunta sa (They came to) Davao, nag-dinner kami. Kaibigan (We had dinner. We were friends). No personal hatred pero hindi kami magkaintindihan (but we did not understand each other)," he shared.
"Sabi mo, hindi (You said there will be no) coalition government. Pero 'yung mga (But the) JASIG (Joint Agreement on Safety and Immunity Guarantees), 'yung agreement na previous, 'pag ipasok mo 'yan sa fabric ng national laws natin pati Constitution, parang ang labas coalition talaga (The previous agreement, if you will enter that into the fabric of national laws and even the Constitution, it will really appear as a coalition)," he added, recalling his past exchanges with the couple.
The chief executive said the issue of talking to the communists is almost nil as their leaders are too "ambitious" with their demands.
With the recent brutality and attacks of communists against security forces, Duterte said he was compelled to order an all-out-war against the rebels.
"Kasi nagalit ako kung bakit nilaslas nila 'yung leeg ng pulis (I got made because they slashed the neck of the police officers)," he said. (PNA)