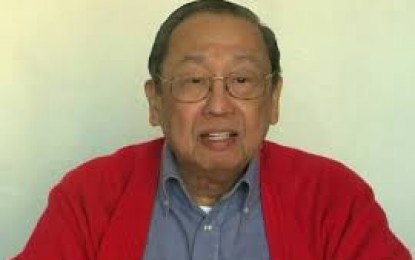 MANILA -- Communist Party of the Philippines (CPP) founding chair Jose Ma. "Joma" Sison can be extradited if the government of The Netherlands allows it, Malacañang said on Thursday.
Presidential Spokesperson and Chief Presidential Legal Counsel Salvador Panelo rejected Sison's claim that the arrest warrant against him is politically motivated and disagreed that he cannot be extradited from The Netherlands.
"If The Netherland government allows it, eh nasa sa kanila rin iyon (it is also up to them)," Panelo said in a Palace briefing.
Panelo said because there is already a warrant of arrest issued against Sison, everything he says would be considered "moot and academic".
"They were given the opportunity to rebut the evidence submitted before the court, or prior to that, the preliminary investigation. Prosecutors found probable cause filed before the Regional Trial Court and the Court finds probable cause, oh eh papaano pa (so how else)," Panelo said.
Panelo, meanwhile, told Sison to abandon his dream of overthrowing the administration under President Rodrigo Duterte.
"Until such time as he faces the music, may problema siya (he has a problem). He should unchain himself from that illusionary dream of ousting the present dispensation. Fifty years plus na iyon eh (That's over 50 years already)," he said.
Last week, a Manila court ordered his arrest and 37 others for their involvement in the so-called Inopacan Massacre in the 1980s.
Presiding Judge Thelma Bunyi-Medina, of the Regional Trial Court Branch 32 in Manila issued a warrant of arrest against Sison and 37 other people in relation to the mass purging by the armed wing of the CPP, the New People's Army (NPA), in Leyte.
On Sept. 10, the Philippine National Police (PNP) asked the International Criminal Police Organization (Interpol) to issue a "red notice to expedite Sison's arrest.
Sison, who is currently in self-exile in The Netherlands, dismissed the allegations as "fake" noting that he and other suspects were in jail during the time of the supposed killing.
He claimed that the case was only being used to distract the public from the controversial release of almost 2,000 heinous crimes convicts. (PNA)