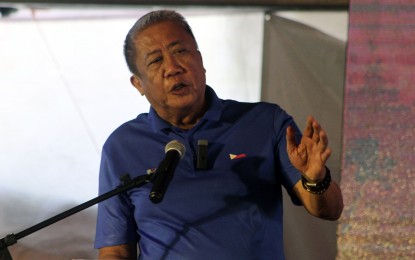 MANILA — Department of Transportation (DOTr) Secretary Arthur Tugade on Friday denied Senator Grace Poe's accusation of lack of a master plan on the use of emergency powers to solve traffic woes in Metro Manila.
In a television interview, Tugade enumerated the agency's plans on how to use the granting of emergency powers to President Rodrigo R. Duterte.
The plans include a transportation infrastructure plan made by the Japan International Cooperation Agency (JICA), a plan submitted to and reviewed by the National Economic Development Authority (NEDA), and a 30-year roadmap filed as legislation.
"Kung sa plano lang ho, meron ho. Eh hindi 'ho kami binibigyan ng pagkakataon (If it's just planning, we have those. But we were not given a chance)," Tugade said.
The transport chief said they were unable to present these plans during the hearing with the Senate committee on public services chaired by Poe on Tuesday as the discussions stalled on railway issues.
"Nung nag-hearing kami, hindi naman kami binigyan ng pagkakataon na ilahad at i-amplify 'yung aming mga plano. Naudlot 'ho kami dun sa riles (When we had that hearing, we were not given the chance to lay out and amplify our plans. We got stuck on railway issues)," Tugade said.
Due to the delay in the granting of emergency powers which the DOTr has been asking for since the beginning of Duterte's term, Tugade said they would no longer ask for it as they have "more important other things to do than talk and talk and talk."
"Trabaho na lang po kami (We'll just work)," he added.
When Poe's call for his replacement was brought up, Tugade said the senator should not feel entitled to question his appointment as chief of the DOTr as she is not part of the executive branch of the government.
"Sobra naman ang bilib ni ma'am sa sarili niya. Pati 'ho ba ehekutibo, saklaw na ng kanyang feeling of power? (She thinks too much of herself. Are executive powers part of her sense of power?) 'Sus Maria. We serve and I serve at the pleasure of the President," Tugade said.
On Wednesday, the DOTr said emergency powers would allow for the immediate adoption of policies that normally required time-consuming amendment of existing laws and ordinances.
"It would provide for a platform to fast-track procurement, right-of-way acquisition, and relocation process," the DOTr Communications and Commuter Affairs Office said in a message.
It added emergency powers would also allow for the immediate implementation of high-impact priority projects "on a shorter gestation period and/or enabling partial operability." (PNA)