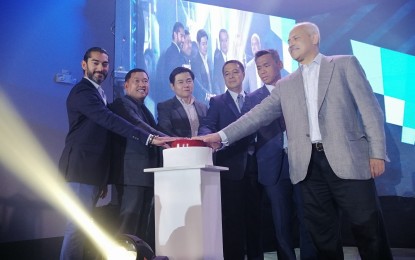 CLARK FREEPORT, Pampanga -- The Alpha Aviation Group (AAG) officially unveiled on Friday its USD11-million Simulator Training Center Expansion Project, which will house four additional simulator bays, including the brand new A320 Full Flight Simulator version 2.0 inside this Freeport zone.
In his speech, C&C Alpha Group founder and director Bhanu Choudrie said the expansion project of AAG will enable the training of pilots to highest standards and fulfill its commitment to the regional airline industry.
AAG is one of the companies under the C&C Alpha Group that operates at the Freeport.
Choudrie said the new simulator will become an invaluable asset for more than 300 students currently enrolled at AAG.
More than 900 pilots from over 40 nations around the world have already been trained at AAG, he noted.
"We are committed to an ongoing ambitious expansion plan. To ensure world-class facilities where as many cadets can learn to fly as possible and industry demand can be met," he said.
AAG, Choudrie said, is proud to have launched its sixth simulator, the most of any pilot training provider in the Philippines.
"But success isn't about the numbers. It is about supporting the local economy. It is about developing the local talent to benefit regional airlines and industries. And it is about empowering young people by unlocking life-changing opportunities. This, I believe is the true maker of our growing success," Choudrie added.
He said the APAC airline industry is growing at a remarkable rate and has been predicted to have 3.9 billion passengers by 2037.
Choudrie likewise said that the greater demand for commercial pilots was pegged at 645,000 more worldwide by 2038 with a third of those required across APAC to be exact.
In 2017, AAG invested in two new simulators. In 2018, it started its expansion of Cessna 172 training aircraft fleet which now has 32 aircraft.
"None of this investment would be possible without the support of all our partners involved. So, thank you to Philippine Airlines, PAL Express, Air Asia, Air Arabia, Pan Pacific, Royal Air, SEAir, and VietJet. Thank you also to our financing partners BDO, BPI, RCBC, and Maybank. Thank you also to our strategic partners from the Philippine government, the diplomatic community, the private sector, the media and academia," he added.
Meanwhile, Department of Transportation Undersecretary Raul Del Rosario commended AAG for fulfilling its commitment to producing high standards commercial pilots.
"On behalf of Transportation Secretary Arthur Tugade and the attached agencies in the aviation and airport sector, allow me to express my personal thanks to AAG for the opportunity to present to you the strives we have taken to make Filipino lives safe, secure and more comfortable. With your new flight simulator, AAG provided the means for Ric Beredo and any more pilots to fulfill their dreams of becoming an airline pilot. Congratulations," del Rosario added.
AAG is a well-established provider of aviation training solutions offering a wide portfolio of services specializing in cadet assessment, selection, type ratings, and training programs tailored to clients' operational needs.
The aviation firm in Clark is also a European Aviation Safety Agency-approved Level D Airbus A320 Full Flight Simulator and Airbus A320 Fixed Base Simulator in the Philippines and region, making it uniquely equipped to provide world-class pilot training from zero hours to fully qualified first officer. (PNA)