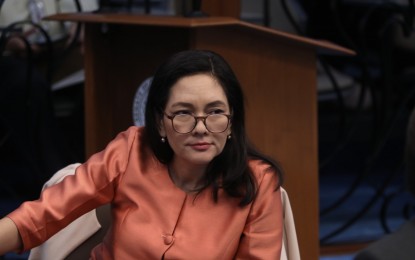 MANILA -- Senator Risa Hontiveros on Tuesday said the divorce bill is "pro-marriage, pro-family and pro-children", contrary to the claims of the Catholic Church.
Hontiveros, chair of the Senate Committee on Women, Children, Family Relations and Gender Equality, made the statement as the panel held its first deliberation on the proposals allowing divorce in the country.
"The Divorce Bill is pro-marriage, pro-family and pro-children. It makes us respect marriage more by being more discerning with our choices in life. It protects children from abuse and rebuilds broken families," Hontiveros said.
"They, together with their children, deserve all the chances available in this world to build nurturing families and find true and meaningful relationships," she added.
Hontiveros said her panel is in the "process of making history" by crafting a policy to make the dissolution of marriage available to all Filipinos "who want second chances in love, to rebuild their families and start all over again."
"I believe in and support the institution of marriage. I myself was happily married. I have the highest admiration and respect for happy, married couples. Ang kasal, bukod sa pagdiriwang ng pagmamahalan, ay malalim na pagtataya sa tapat na pagsasama (Marriage, aside from being a celebration of love, entails a greater stake at a committed relationship)," she said. "
"However, I also believe that Filipinos, especially women and their children, should have the right to turn the page and be free from abusive and loveless relationships. Buo ang aking simpatiya at suporta sa ating mga kababayan, lalo na napakaraming kababaihang biktima ng domestic violence at psychological abuse (I have my full support and sympathy for the Filipinos, especially women who are victims of domestic violence and psychological abuse)," she added.
During the hearing, the Catholic Bishops' Conference of the Philippines (CBCP) argued that divorce has become the problem instead of a solution in "almost every country" it has been legalized in.
Fenny Tatad of the CBCP Commission on Women highlighted how the divorce rates increased in the United States, from 17 percent in 1930 to 60 percent in 1990.
Tatad also cited social data revealing more than half of adolescents with serious problems are from divorced parents; the highest rates of teenage suicides are from children of divorced parents; and high dropouts and underperformance in school also come from the same children, among others.
Tatad said marriage should be protected from any "undue state interference" since it is a human institution rather than the creation of any legislature.
"'What God has joined together, let no man separate'--is an airtight moral prescript, which no legislature can repeal or set aside. The legal positivists may legislate divorce, but as far as the objective moral law is concerned, it is an unjust law which cannot bind anyone in conscience," she said.
Tatad claimed that the proposed divorce law may violate a constitutional provision, which defines marriage "as an inviolable social institution", which means it cannot be violated by the enemies of the state, least of all by the state itself.
"From our clear understanding of what the Constitution says, we should be discussing various ways and means of strengthening marriage and family life, rather than spending precious time and money on unconstitutional divorce bills," she said. (PNA)