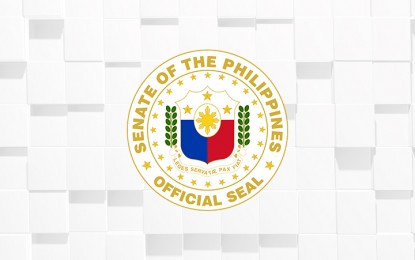 MANILA -- Senator Francis Tolentino on Tuesday urged his colleagues in the Senate to pass the measure seeking the postponement of the 2020 barangay and Sangguniang Kabataan elections to May 2023, noting that incumbent leaders should be given ample time to perform their duties and fully serve their constituents.
During a plenary session, Tolentino manifested his support to Senate Bill Number 1043, which seeks to amend Republic Act No. 9164 by moving the barangay and SK elections to the second Monday of May 2023 from May 2020, and scheduling subsequent polls a year after the national and local elections.
"This representation firmly supports the postponement of the barangay and Sangguniang Kabataan elections to May 2023 and urges this august body to approve this bill," Tolentino said.
Tolentino argued that the postponement of previous barangay elections has limited the term of service of current officials to only two years, which he said is not enough for them to conduct their training, perform their mandates, as well as the new directives issued by President Rodrigo Duterte regarding cleanup operations.
"These units of government must be always be afforded the opportunity and time to perform their very important functions and duties," Tolentino said.
"However, with the existing law on barangay elections and the realities these local government units have been facing since their assumption into office in 2018, it would seem that they have been denied the chance to fully, competently and completely serve their constituents," he added.
The bill, if enacted into law, would allow current leaders to hold office for five years instead of just two.
"With this bill, there is new hope for the accomplishment of these tasks," he said.
Tolentino noted that the bill meets the concerns of the Commission on Elections in having at least a one-year gap between national and local elections and the barangay and SK elections to enable the poll body to fully prepare and ensure that democracy is exercised.
"After this bill is passed, confusion on the schedule of barangay elections will now be cleared up as from hereon, the barangay and SK elections will always be held a year after every national and local election, promoting consistency and stability in these basic but supremely important units of government," he added.
During his 4th State of the Nation Address, President Duterte asked the 18th Congress to reschedule the Barangay and Sangguniang Kabataan elections slated for next year and urged the legislators to pass the Magna Carta for Barangays so that incumbent officials can avail of its benefits. (PNA)