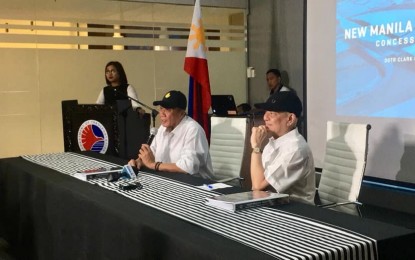 CLARK FREEPORT, Pampanga -- The construction of the PHP735-billion Bulacan International Airport will start by the end of this year.
This was disclosed on Wednesday during the formal signing of the concession agreement for the airport development project.
Department of Transportation (DOTr) Secretary Arthur Tugade and San Miguel Corporation (SMC) President and Chief Operating Officer Ramon Ang signed here the contract, which covers a 50-year concession period.
Under the agreement, San Miguel will undertake the financing, design, construction, supply, completion, testing, commissioning, and operation and maintenance (O&M) of the new international gateway.
With a design capacity of up to 200 million passengers annually and plans for four parallel runways, the Bulacan International Airport is expected to help decongest the Ninoy Aquino International Airport (NAIA) and complement the operations of Clark International Airport (CRK).
Tugade said the Bulacan airport aims to enhance the mobility and connectivity of air-riding Filipinos through an additional choice of gateway.
He noted that with Bulacan International Airport, Ninoy Aquino International Airport, and Clark International Airport, the riding public will have "freedom of choice".
"It's all about comfort. It's all about convenience. It's all about putting life to the President's wish and desire for a comfortable life for Filipinos," he said.
Ang, for his part, described the project as "a game changer" that would bring more foreign tourists to the Philippines.
"Once completed, the new international gateway will help in significantly boosting tourism that will lead to creating more job opportunities," he said.
He also expressed hope that the airport will help boost the economic growth in Central Luzon.
"This project will generate over a million direct and indirect jobs, improving the quality of life of many families, and will give rise to small industries in Bulacan and neighboring provinces," Ang said.
The airport operations are targeted to commence in four to six years. (PNA)