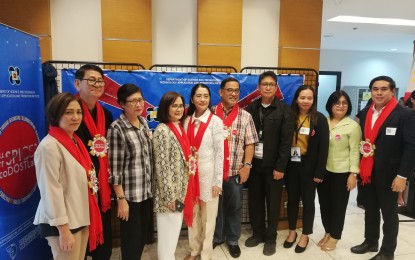 MANILA -- The Department of Science and Technology has launched a promotional activity to reach out more micro, small and medium enterprises (MSMEs), an official announced on Wednesday.
"We have launched the 'SPICES to DOST LabS', a promotional activity wherein we hold tours (of our facilities) and one-on-one consultations with DOST researchers and RDIs (research and development institutes)," DOST-Technology Application and Promotion Institute (TAPI) director Edgar Garcia told the Philippine News Agency (PNA).
SPICES to DOST LabS stands for Strategic Promotion through Integrating Collaboration and Engagement of SMEs to Support the Technology Transfer and Commercialization of DOST-Developed Technologies including Testing Laboratories and Services.
Garcia said DOST Secretary Fortunato dela Peña instructed them to find ways to inform the MSME industry about the agency's laboratories, facilities, and equipment.
"(SPICES to DOST LabS) aims to make the industry aware of the different DOST facilities that they could use for R&D, or help them expedite testing of products they would sell to the market," he remarked.
TAPI senior science research specialist Delia Padilla told Philippine News Agency that the DOST's reach to MSMEs is not that wide. Thus, TAPI decided to intensify the information drive via the "SPICES to DOST LabS".
"We (TAPI) ourselves send letters to MSME CEOs (chief executive officers) and presidents to come and visit our facilities. Apart from the tour, we also put up booths so they could have a glimpse and make consultations about our other facilities and offices," she said.
Padilla said the launch was held last Sept. 6 at the Advanced Device and Materials Testing Laboratory (ADMATEL) in DOST Compound in Bicutan, Taguig. Close to 100 participants were toured at the ADMATEL, she added.
"We were able to accommodate five batches in two hours and a total of 15 batches during the launch," Padilla said.
TAPI has scheduled a tour of the Philippine Textile Research Institute (PTRI) on Oct. 28, the Food and Nutrition Research Institute (FNRI) later this year, the Forest Products Research and Development Institute (FPRDI) in February, and the Metals Industry Research and Development Center (MIRDC) in March.
Padilla confirmed that the tour would initially be available for the MSMEs in the National Capital Region.
"We also have facilities in our DOST regional offices. So we could probably also extend (the SPICES to DOST LabS) there," she said.
She said interested MSMEs may contact TAPI if they are interested to join the tour.
"It is the TAPI who chooses who to invite for the tour, and these are companies or enterprises that TAPI sees a potential to collaborate with the DOST," Padilla said.
"We want them to know that using our equipment, for instance, would cost less than the commercial ones. They can have one-on-one consultations with our RDIs," she reiterated. (PNA)