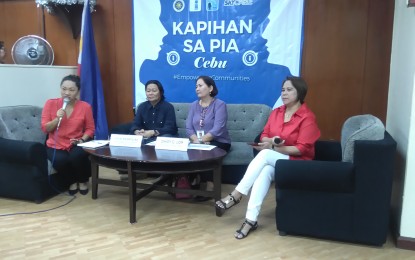 CEBU CITY -- The Department of Social Welfare and Development in Central Visayas (DSWD-7) is encouraging male parents in the region to join the Empowerment and Reaffirmation of Paternal Abilities (ERPAT) program.
Daisy Lor, DSWD focal person on Family, said Wednesday ERPAT is a service that gives importance and emphasis on the development and enrichment of knowledge, attitudes, and skills of fathers in performing their paternal roles and responsibilities.
"The ERPAT program is aimed to educate fathers about their roles in the family. Once fathers know their roles in the home, they will learn to appreciate God's purpose in creating man," Lor said in Cebuano during the "Kapihan sa PIA" (Philippine Information Agency) forum.
Lor said fathers should not limit themselves to being providers as they are key partners of their wives in child development and protection.
"Fathers must realize that marriage is a partnership and parenting is a shared responsibility. With ERPAT, we want to inculcate among fathers that their participation in the affairs and concerns of their kids is important," she said.
Kevin Rodriguez, ERPAT regional officer and National Auxiliary Chaplains of the Philippines (NACPHIL) assistant regional director, said they have enhanced the program manual to strengthen the husbands' participation in the practice of gender equality and improve their parenting performance.
"We have started conducting trainings in the barangays to strengthen the organization of male parents. We have so many organizations for women, but we rarely see organizations focused on husbands or fathers," Rodriguez said.
The enhanced manual consists of nine modules including Understanding Myself as a Person, Accepting Your Role as a Father, Becoming Your Wife's Best Friend, Fathers as Child Caregivers, and Promoting Family Spirituality, among others.
Rodriguez said they will be coordinating with male-oriented groups, like habal-habal (motorcycle-for-hire) drivers to organize ERPAT organizations in the different municipalities in the region.
"With God's grace, we would be able to organize municipal ERPAT organizations in Central Visayas. Once we have established ERPAT in all municipalities, we can then form a federation of all the fathers' groups," he said. (PNA)