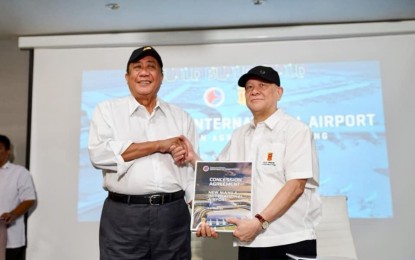 CLARK, Pampanga – The Department of Transportation (DOTr) on Wednesday gave San Miguel Corporation (SMC) the green light to begin construction of the Bulacan International Airport.
DOTr Secretary Arthur Tugade announced the issuance of the Notice to Proceed after he and SMC president and chief operating officer Ramon Ang signed the concession agreement.
The agreement formally grants San Miguel Aerocity Inc., a company wholly owned by San Miguel Holdings Corporation (SMHC), the task of handling the financing, design, construction, operations and maintenance of the Bulacan International Airport.
The concession period spans 50 years after the completion of construction of the first phase.
Tugade said the construction of the new international gateway would boost connectivity and mobility for Filipinos, as this would give them additional travel options.
"Ang mahalaga po diyan ay 'yung pasahero, 'yung riding public (The passenger, the riding public is important). Alam niyo 'ho kung bakit? 'Pagkat kung meron nang (Why? If there are a variety of options to choose from -- ) Bulacan Airport, NAIA at Clark Airport, let it be a battle of commercial competitiveness. And if it becomes a battle of commercial competitiveness, who benefits? It is the riding public, because the riding public will be given a freedom of choice. Pwedeng mamili kung saang gustong paliparan. Pwedeng mamili kung saang comfort and convenience ang tutukuyin niya. Ito 'ho 'yung mahalaga dito (Passengers can choose which airport to go to. That's what's important)," Tugade said.
"It's all about comfort. It's all about convenience. It's all about putting life to the President's wish and desire for a comfortable life for Filipinos," he added.
During the signing ceremony, Tugade also lauded the SMC for ensuring that issues on right-of-way acquisition, "Material Adverse Government Action" (MAGA) or situations where the government deviates from contractual obligation that requires it to compensate a private entity, and subsidy, are expeditiously resolved.
"Napadali ang dayalogo. Napadali ang agreement sapagkat kinuha ni Ramon Ang ang responsibilidad. Sa dahilang ito, umusad tayo (The agreement was swift and easy because it was Ramon Ang who took responsibility. Because of this, we went forward)," Tugade said.
Ang touted the economic boost the new airport would bring, especially to Central Luzon.
"This will really benefit our people and it will create a lot of business opportunities for Filipinos. It will bring so many foreign tourists," Ang said.
The SMC top honcho also averred the conducive conditions for business with government under the Duterte administration.
"Marami na akong experience in dealing with government officials for the past 30 years. Alam niyo, importante sa government official, 'yung matapat na tao at masipag. Matapat, masipag, at magaling. Itong administration na ito, ganun po sila (I have a lot of experience in dealing with government officials for the past 30 years. A government official should be honest, hardworking, and good. This administration have those qualities)," Ang added.
The DOTr formally issued SMHC the Notice of Award on August 14, 2019, two weeks after the conclusion of the Swiss Challenge where SMHC's unsolicited proposal went uncontested.
The Bulacan International Airport is envisioned to help decongest the Ninoy Aquino International Airport and complement the operations of Clark International Airport, in order to serve the current and anticipated rapid growth in aviation traffic demand in the greater capital region.
The new gateway will have four parallel runways for faster turnover of aircraft, eight taxiways, a Passenger Terminal Building with a design capacity of 100 million to 200 million passengers per year, and airfield facilities and equipment.
Additionally, an eight-kilometer toll road connecting the Bulacan Airport to the North Luzon Expressway will be constructed to aid travelers to and from the airport.
Located in the municipality of Bulakan, the massive gateway is targeted for operations within four to six years. (PR)