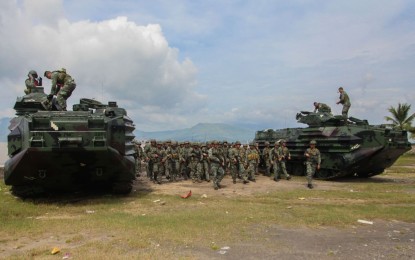 MANILA – Four of the Armed Forces of the Philippines' (AFP) newly-acquired amphibious assault vehicles (AAVs) carried out ship-to-shore operations during a joint military exercise in Subic Bay, Zambales Saturday.
The new AAVs were the highlight of the amphibious exercise which is one of the main joint interoperability exercises conducted under the AFP Joint Exercise (AJEX) "DAGIT-PA".
The activity seeks to enhance joint operations among ground, naval and aviation assets of the AFP.
The amphibious operations demonstrated the military's ability to seize a littoral objective in a scenario of an island retake.
During the activity, a team of Marine infantry and reservists launched the AAVs from Philippine Navy landing dock, BRP Davao del Sur (LD-602).
This enabled the team of Marines to land and conduct operations to retake the island. Meanwhile, the Philippine Air Force rotary-wing aircraft S-76A conducted casualty evacuation from shore-to-ship.
"The amphibious exercise is an opportunity to enhance our proficiency in sea to land operations utilizing our new amphibious assault vehicles. It seeks to develop our skills, techniques and capabilities during rapid deployment of troops from ship to shore whether under hazardous circumstances or during natural disasters or hostile enemy actions," Amphibious Landing Force head Lt. Col. Henry Espinosa said in a statement.
The four AAVs were among the eight newly acquired amphibious vehicles from South Korean defense manufacturer Hanwha Techwin.
The first batch was delivered in May while the second batch arrived in August.
These vehicles are being used by the Philippine Marine Corps and are based in two strategic sealift vessels, the BRP Tarlac (LD-601) and BRP Davao Del Sur (LD-602).
The AFP is currently holding AJEX DAGIT-PA, which stands for "Dagat-Langit-Lupa".
The AFP-wide exercise, which officially opened last September 16, aims to enhance interoperability during joint operations of the Philippine Navy, Philippine Air Force and Philippine Army.
More than 1,500 soldiers, including reservists and selected AFP Wide Support and Separate Units, are participating in this year's joint exercises.
Among activities lined up are the Air/Maritime Interdiction Operation in Palawan; Amphibious Landing in Zambales; Airfield Seizure and Military Operations in Urban Terrain in Nueva Ecija; and Combined Arms Live Fire Exercise in Tarlac.
These events will focus on capabilities development in maritime security, military operations in urban terrain, and amphibious operations. (PNA)