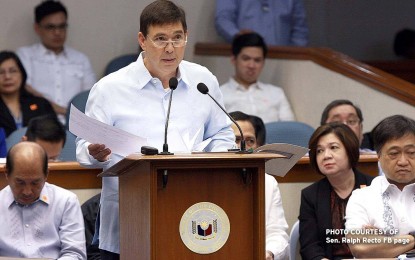 MANILA -- Government will be funding the studies of 44,475 science scholars next year -- including 1,927 in PhD and 4,264 in Masters' programs -- as part of the "national talent pool the country needs to win the future," Senate President Pro Tempore Ralph Recto said on Sunday.
The 2020 cost of the tuition fees, books, travel, living and other allowances of these scholars, including the operations of the Philippine Science High School (PSHS) and the Science Education Institute (SEI), is PHP7.4 billion, which Recto said "is not an expense but an investment with high returns to society."
The amount is lodged with the Department of Science and Technology (DOST), which administers the "menu of scholarships", and accounts for more than one-third of its proposed PHP20 billion budget for next year.
The scholars are dispersed over many courses under the STEM -- science, technology, engineering, mathematics -- umbrella.
Joining the 6,191 doctorate and masteral students are 28,900 undergraduate students and the 9,384 students in the 16 campuses of the PSHS System.
"So this program covers high school education to the highest degree available," Recto said.
Recto noted that the number of government PhD scholars is "six times the membership of the House of Representatives and 80 times that of the Senate, and no doubt are more important for the country's future."
"This is so because we can only 'science our way to the future.' The problems we confront today, from health, to agriculture, to traffic, can only have science-based solutions," Recto said.
"We have to train the knowledge workers who will fix these, and the ones that would come after, including existential challenges, like climate change," he said.
Recto said the generous financial aid -- "which must be periodically adjusted to inflation" -- that comes with the scholarship should attract the best and the brightest to pursue STEM courses.
"Marami na tayong political scientists, pero kakaunti ang nasa data science (We already have many political scientists but only few on data science). May surplus na ng government administrators, pero (the government has already a surplus but we lack) ICT systems administrators kulang tayo," he said.
The DOST scholarship programs are run by two agencies: the SEI, which handles all college and graduate programs, with a proposed 2020 budget of PHP4.74 billion, and the PSHS, which is being earmarked PHP2.6 billion.
The DOST scholarships are separate from other government tertiary education financing programs bundled under the Universal Access to Quality Tertiary Education. (PR)