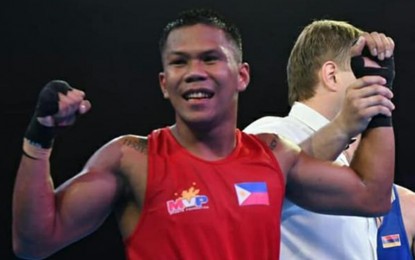 MANILA -- Eumir Felix Marcial settled for silver medal after losing to hometown opponent Gleb Bakshi in their battle for gold in the AIBA World Boxing Chamionship in Ekaterinburg, Russia on Saturday night (September 21).
Marcial was leading in the scorecards after the first round when he got caught by a wayward left hook during a wild exchange halfway in the second.
The Russian then coasted the rest of the fight to secure the gold medal of the middleweight category.
The 23-year-old Filipino pug immediately got up at the count of 3, but the Russian smartly avoided his desperate attempts to salvage the situation.
After three rounds, three judges had it 29-28 for Bakshi while two scored it 29-27, awarding the hometown boy a unanimous decision and the gold medal in the middleweight (75 kg) division.
"Eumir showed a lot of determination and skill, and to be No. 2 in the world is a major achievement," Association of Boxing Alliances in the Philippines (ABAP) president Ricky Vargas said in a short statement.
"We'll support him and our other worthy boxers in getting more intensive training on the road to the SEA Games and the Olympic qualifiers next year. We will again request PSC for their usual assistance," he added.
Elite men head coach Ronald Chavez worked Marcial's corner with foreign consultant Don Abnett and Australian head coach Kevin Smith, a former ABAP consultant who volunteered to help out when coach Roel Velasco had to rush home after his mother passed away during the tournament.
"Marcial performed superbly but just got unlucky. But we need to get him to develop his own boxing brand which he cannot do at home because of lack of sparring partners in his weight division. We need to get him (and our other big guys) appropriate training partners," Abnett said.
ABAP secretary-general Ed Picson is in final negotiations with the Great Britain Boxing Association for a training camp in the England Institute of Sport (EIS) in Sheffield, England next month.
"The British team is excited to have our team with them in the camp. We're just sorting out visa issues," Picson said.
"Out of 78 countries that participated in the tournament, only 9 were represented in the Finals and Eumir put the Philippines in that list. We are proud of him," Picson added.
Other members of the team were flyweight Carlo Paalam, featherweight Ian Clark Bautista, lightweight James Palicte and light heavyweight John Tupas-Marvin. (PR)