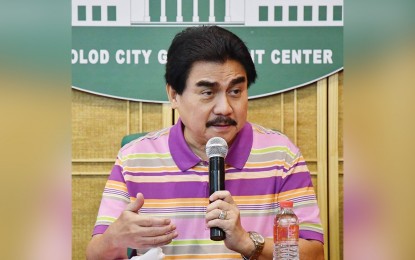 BACOLOD CITY -- Mayor Evelio Leonardia said the high satisfaction rating of the administration's campaign against hard drugs and illegal narcotics shows the Filipinos' continued support to President Rodrigo Duterte.
"In spite of some human rights issues raised, we can see the people are solidly behind the President," the mayor said in a press briefing on Monday afternoon.
Leonardia added that the people have indeed shown their approval of the President in fulfilling his campaign promise to declare war against drugs.
"When he declared that it's (against) illegal drugs, criminality, and corruption, and he pursued this, and he's getting very high ratings, it simply tells us that this is what the people want," the mayor added.
The second-quarter survey of Social Weather Stations (SWS) released on Monday showed that 82% of Filipinos are satisfied with the government's drug war while 12% were dissatisfied and only 6% were undecided.
Leonardia acknowledged the "great job" of Col. Henry Biñas in leading the Bacolod City Police Office in the campaign against illegal drugs.
Police operatives have seized PHP17.193 million worth of suspected shabu from June to August this year. "We appeal to the public that we should work together in this campaign," the mayor said.
Bacolod City has been supportive of the administration's war against drugs through various initiatives in partnership with concerned government agencies.
During the "Lakad Iwas Droga" held last week, the Dangerous Drugs Board (DDB) lauded the city for its continuing support to the agency's initiative in the campaign against illegal drugs.
The DDB has provided an initial PHP10-million financial assistance for the ongoing construction of the PHP35-million Bacolod City Drug Treatment and Rehabilitation Center in Barangay Alijis.
In March last year, Bacolod also launched the "Rehabinasyon," a holistic approach in eliminating the country's drug problem that puts a premium on the rehabilitation of drug surrenderers.
Bacolod is also the Visayas pilot site of Balay Silangan, a drug reformation center that will be soon opened with the Philippine Drug Enforcement Agency (PDEA).
Moreover, Leonardia, national president of the League of Cities of the Philippines (LCP), said the league is also making the war on drugs a priority aligned with that of the Duterte administration.
He noted that for the first time, the LCP has designated a focal mayor on drugs, who is Baguio City Mayor Benjamin Magalong. (PNA)