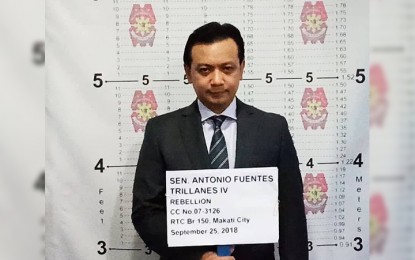 MANILA – The Department of Justice (DOJ) has summoned former Senator Antonio Trillanes IV in connection with the kidnapping with serious illegal detention charges filed against him and four others last August by the Philippine National Police-Criminal Investigation and Detection Group (PNP-CIDG).
In a subpoena dated September 16, Assistant State Prosecutor Gino Paolo S. Santiago directed Trillanes to appear during the preliminary investigation on the case on October 11 at 2 p.m.
"You are hereby warned that failure on your part to comply with the subpoena shall be considered as a waiver of your right for the investigation to verify and confirm the allegations of your complaint and the case shall be considered submitted for resolution based on the evidence on record," the subpoena read.
The PNP-CIDG complaint arose from the charges filed by Guillermina Barrido, also known as Guillermina Arcillas.
In her complaint, Barrido claimed she was kidnapped and detained from December 6 to 21, 2016 and placed in a convent to force her to sign a ready-made affidavit maligning President Rodrigo Duterte.
She claimed she was shuttled between the Convent of Cannussian Sisters in Makati City to the Holy Spirit Convent in Quezon City for two weeks.
She named Trillanes, Fr. Albert Alejo, lawyer Jude Sabio and a certain Sister Ling of the Cannussian Sisters convent in the charge sheet along with several John and Jane Does.
Barrido said the sworn statement against the Duterte family she was coerced to sign was originally executed in 2017.
"It is clear from the foregoing that herein respondents, maliciously and intentionally put the complainant under detention for 14 days in order to force her to do something against her will," Police Lt. Col. Domingo D. Soriano said in the charge sheet.
Trillanes and Alejo, in separate statements, denied the charges. (PNA)