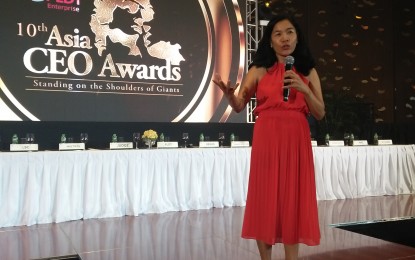 MANILA -- Putting up a business requires capital. This often hinders aspiring entrepreneurs from starting their own businesses.
However, even if one is cashless at the moment, there are several ways to start a business.
Rebecca Bustamente, a former overseas Filipino worker (OFW) and now president of the Asia CEO Awards, shared some tips in an interview with the Philippine News Agency (PNA).
Be credible.
"With credibility, I mean what I say. That is why, it came to a point when (business people) would reply to me after just one text message," she said.
Bustamante noted that being a nobody when she and husband, Richard, started, people were hesitant to trust them. However, she said they were able to prove their vision, and thus, little by little, sponsors eventually partnered with them.
Now on its 10th year, the Asia CEO Awards gives recognition to top-performing Filipino business leaders across Asia.
"We started with just 18 people. We didn't even have proper food to offer. Our first Awards were attended by only 350 people," she added.
Know your purpose.
"Know your whys. You've got to have a vision, because if you don't, it would be like driving a car without knowing where to go," Bustamante said.
The executive also suggested that it really works when someone creates a timeline of his or her goals.
It's a must, she said, for someone to set a certain period as to when he or she would like to achieve a specific goal.
Keep going.
"Nothing can stop you," she said, adding that one must never give up.
Bustamante herself has been through a lot. At 19, she had to take the responsibility of sending her siblings to school, as well as pay their bills. At that age, too, she was mistreated as a domestic helper (DH) in Singapore.
Back then, her vision was clear -- that she must not be a DH forever.
"How can I help my siblings if I won't be able to help myself? Now, my siblings are also successful," she said.
Don't waste your time.
"We all have 24 hours in a day. The question is, 'How are we going to spend it?'" Bustamante said, noting that she, for example, used her evenings as DH to study and read books. She used to listen to motivational tapes while mopping the floor.
"Millennials are so lucky. These days, they can learn everything online. However, (some of them) don't make use of this, and act as if things must adjust for them," she commented.
The youth, she said, must use their time to develop their skills. Also, getting a degree is different from learning from the experts and from experience, Bustamente added.
Find your niche.
Bustamante confirmed that one only need be courageous to become an entrepreneur, even if he or she does not have capital.
"Money will come. What's more important is that you know your purpose," she said.
Many services do not require capital, according to Bustamante.
"Your skills should be different from what the others are offering. It's important for an aspiring entrepreneur to determine what he can offer," she said.
One cannot just talk about skills, but rather show them, she added.
For 10 years now, Bustamante has been focusing on the Asia CEO Awards, a business awards that recognizes leaders in the country and across the Asian region. She also founded Chalre Associates, which focuses its Senior Manager Staffing services in emerging countries of the Asia Pacific.
She previously told the PNA that the Asia CEO Awards was conceptualized to recognize the struggles of CEOs.
"It's for the people at the bottom to be inspired. I want them to realize that these CEOs were also at the bottom before, and have struggled to slowly climb the ladder," she said earlier.
Even if she has been successful, Bustamante said she has not changed.
"I still feel the same. I don't feel different. The only difference now is that I could buy food and clothes that I want. I used to wear worn-out slippers. Before, I was already lucky if I had 'tuyo'," she said. (PNA)