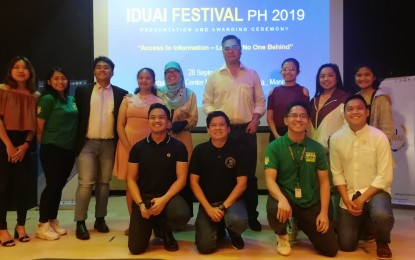 MANILA-- The Philippine government on Friday joined the rest of the world in celebrating the International Day for Access to Information (IDUAI) by organizing the first access to information festival in Manila.
"The Presidential Communications Operations Office, being the lead agency tasked for the implementation of the freedom of information program has come to realize the urgent need to initiate the local celebration of the IDUAI," Communications Secretary Martin Andanar said in his speech at the awarding ceremony for IDUAI winners at the Philippine Cinematheque in Manila.
"The IDUAI Festival primarily aims to unleash the creativity of every Filipino in advocating the right to access to information through various art forms. Access to information is one basic right enshrined by our Constitution," he added.
The festival featured creative works from the youth who underscored the importance of such right in the form of spoken word poetry, photography, and essay writing.
The champions were Angelika Garcia for spoken word poetry, Michael Diosim for Essay Writing, and Hissah Macaraya for photography.
IDUAI, which is celebrated every September 28 upon the adoption of a UNESCO resolution in 2016, has the 2019 theme "Leaving No One Behind".
According to PCOO, the poor, particularly communities from the far-flung areas suffer the most due to "great lack" of access to information.
PCOO Assistant Secretary and Freedom of Information (FOI) program director Kris Ablan said he saw its impact when he went on an immersion in Lantapan, Bukidnon where he spent a week with the Talaandig Tribal Community.
"I learned that there is a great lack of information for the poor and the vulnerable," he said.
"Government can come up with as many beautiful programs to uplift their lives but if they do not know about it then it is useless," he said.
In 2016, President Rodrigo Duterte signed Executive Order No. 2 or the enabling order for the FOI program in the Philippines to foster enhanced government transparency and citizen participation.
With the FOI closing in on its third anniversary since implementation in 2016, Ablan said the government will further increase efforts to raise awareness on the program's existence. (PNA)