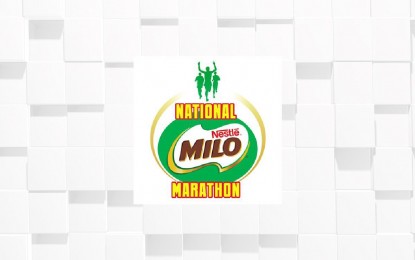 CEBU CITY – The Cebu leg of the 42nd Milo Marathon will kick off Sunday with 24,000 runners participating.
Cebu Milo Marathon organizer Ricky Ballesteros said in an interview Saturday the race will fire off around 5 a.m. in front of the Cebu Normal University along Osmeña Blvd. and finish at the Cebu City Sports Center.
Ballesteros said the race route covering half of Osmeña Blvd. and some portion of Escario St. will be closed to vehicular traffic as early as 3 a.m. Sunday, but the roads will be reopened to motorists as soon as all participants have finished the marathon.
"Participants will be seeing action in four categories: the 21-kilometer, 10K, 5K, and 3K races. The number of participants is the second-highest turnout this year next to the opening leg in Manila last July where 30,000 runners have competed," Ballesteros said.
The Milo Marathon 2019 has 10 legs including in Manila, Subic, Lucena, Batangas, Cebu, Iloilo, General Santos, Davao, Cagayan de Oro, and Tarlac, which will host the national finals.
However, this year's grand finale will be held on Jan. 19, 2020 instead of in December to make way for 30th Southeast Asian (SEA) Games, which the country will be hosting from November 30 to December 11.
This year's marathon series banners the theme: "One Team. One Nation. Go the Philippines!" in support for the Filipino athletes competing in the SEA Games.
Six-time Cebuana champion Mary Joy Tabal is expected to represent the Philippines in the SEA Games together with 2018 Milo National Finals runner-up Jerald Zapata. (PNA)