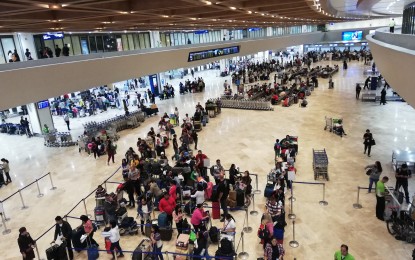 MANILA -- Flights between Manila and Taipei were cancelled on Tuesday due to bad weather.
Records from the Manila International Airport Authority (MIAA) showed that as of 1 a.m., six flights between the two cities have already been cancelled.
These were:
-Eva Air (BR) 261 Taipei-Manila
-Philippine Airlines (PR) 894/895 Manila-Taipei-Manila
-Cebu Pacific (5J) 310 Manila-Taipei
-KLM Royal Dutch Airlines (KL) 808/807 Manila-Taipei-Manila
The MIAA also reported the cancellation of Skyjet's flights M8 816/817 Manila-Basco-Manila.
On Monday, at least six flights between Taipei and Manila/Cebu, as well as Skyjet's Manila-Basco-Manila flights, were cancelled.
The trough of typhoon Mitag (formerly 'Onyok') causes scattered rain showers over Batanes, according to Philippine Atmospheric, Geophysical and Astronomical Services Administration (PAGASA).
Taiwan's Central Weather Bureau (CWB) said the most intense effects of 'Mitag' was felt on the island on Monday night. (PNA)