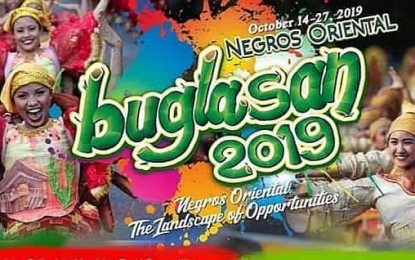 DUMAGUETE CITY – All is set for this year's staging of Buglasan Festival, Negros Oriental's premier showcase of its history, culture and heritage, talents, skills, and tourist attractions.
The festivities will officially open on Oct. 14 and will run through Oct. 27 with several activities lined up all throughout, provincial tourism officer Myla Mae Bromo Abellana said on Wednesday.
These would include competitions on sports, music, dance, marching band, and live band, among others.
Abellana said there will also be the Ironman Endurocross Rally V, Gandang Negorense Pageant, Miss Negros Oriental and the Outstanding Negros Oriental awardees.
The much-awaited events each year, however, are the usual Buglasan Festival of Festivals street dancing and grand showdown competition and the local government unit (LGU) booth competition.
During a press conference on Tuesday, Buglasan director Governor Roel Degamo and co-director Dr. Nick Elman said some PHP11.5 million has been allocated for the prizes as well as subsidies for the contingents participating in the street dancing and showdown competition and the LGU booth competition.
For the Buglasan Festival of Festivals, eight contingents had initially signified their intent to join -- Sta. Catalina, two contingents from Dumaguete (Sandurot Festival winners in the school and barangay categories), Pamplona, Sibulan, Dauin, Tanjay City, and Bais City.
Prior to the press conference, Degamo received a call from someone in Manjuyod town, saying they are also joining the Buglasan Festival of Festivals on Oct. 18 in this capital city.
Meanwhile, several LGUs will be taking part in the booth competition and will set up their own structures depicting their respective municipalities or cities, around Kagawasan Avenue of the Ninoy Aquino Freedom Park here.
So far, the LGUs that will be participating are Basay, Siaton, Zamboanguita, Dauin, Dumaguete, Sibulan, San Jose, Amlan, Pamplona, Tanjay, Bais, Manjuyod, Bindoy, Ayungon, Tayasan, Guihulngan, and Canlaon.
From the PHP11.5 million budget for this year's Buglasan Festival, PHP5 million will be for the festival and booth competitions while the rest will be used for prizes for the other competitions.
Degamo said he is inviting the newly-appointed Chief of Staff of the Armed Forces of the Philippines, Lt. Gen. Noel Clement, to grace the opening salvo of the Buglasan Festival on Oct. 14 at the Capitol grounds after a city-wide parade. (PNA)