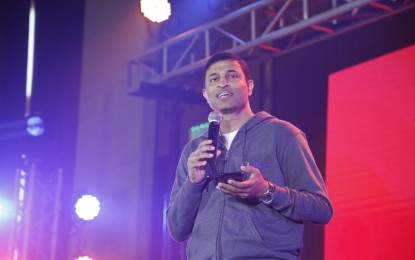 MANILA -- A study showed Mynt-owned GCash as the top mobile wallet used by Filipinos for cashless transactions with 4.9 million of the 6.4 million mobile wallet remitters in the Philippines.
On Thursday, research group Nielsen Company revealed that Filipinos trust GCash more than other digital wallet brands here for 'Money Transfers'.
Anthony Thomas, president and chief executive of Mynt, sees potential of mobile wallet to grow despite only small portion of the total population are using cashless transactions.
"There are 39.7 million who are still into exclusive cash-to-cash transfer and who have not tried a cashless solution. There are 2.9 million non-mobile wallet cashless remitters as well. These present a lot of potentials for mobile wallets to expand and capture large, untapped segments," Thomas said.
Filipinos utilizing cashless transactions now comprise 19 percent or 9.3 million out of an estimated total of 49 million who do money transfers.
Thomas said sending allowance for children and family members is the top reason for money transfers, and e-wallets are seen to become increasingly relevant and attractive as it provides more functions and benefits.
"GCash provides added accessibility and convenience that does not disrupt but rather enhance one's current lifestyle," he said.
As a mobile wallet, GCash offers easy cash-in and cash-out options, through debit cards and linked bank accounts as well as offline at 7-Eleven, M-Lhuillier and many other establishments.
The study also revealed that mobile wallet users prefer GCash because it charges low or no service fees for digital transactions.
GCash, being the leader in the mobile wallet segment, aims to continuously innovate and improve the user experience through added-value services and features. Remitting money is more personalized and fun with options to attach photos and videos or to send money in lucky Ang Pao form.
It also provides users with increased security and peace of mind when using the app with the recent launch of Customer Protect, a program that provides compensation for unauthorized financial transactions on their GCash app, GCash on Messenger or GCash Mastercard platforms arising from instances such as stolen mobile phones or identity theft.
"GCash has thought of the end-to-end experience and is providing the best way to facilitate money transfers by thinking of and putting our customers first," Thomas said.
Money Transfers is only one of the many services provided by GCash. The 20 million GCash users are also into buying load, paying bills, paying QR, GCash Forest, among others.
At present, PLDT's Smart Money and PayMaya have 8 million users combined as of December 2017, and Coins.ph have 5 million users as of May 2018. (PNA)