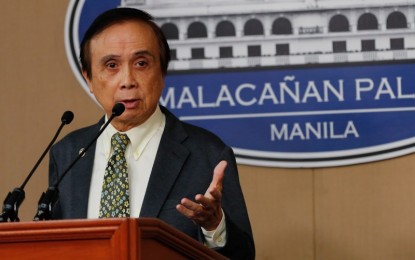 MANILA -- Socioeconomic Planning Secretary Ernesto Pernia on Friday raised the need to prioritize programs that will boost rice productivity as rice deflation was registered for the fifth consecutive month last September.
The Philippine Statistics Authority (PSA) earlier in the day reported that rice prices registered a growth of -8.9 percent from last August's -5.2 percent.
This development contributed to the over-all inflation decelerating further to 0.9 percent in September 2019, slowest since the 1.3 percent in June 2016, from 1.7 percent in the previous month and 6.7 percent a year ago.
The average rate of price increases stood at 2.8 percent to date, at the lower half of the government's two to 4 percent target band until 2021.
In a briefing, PSA Undersecretary Claire Dennis Mapa said the retail price of rice has declined by 18 percent year-on-year to date.
Authorities have attributed the slower domestic inflation rate partly to the impact of Republic Act No. 11203, or the Rice Tariffication Law (RTL), which was signed into law last February and took effect last March.
In a statement, Pernia said NEDA officials see RTL "continuing to help pull down overall inflation in the near term as it continues to help improve rice stock inventory of the country."
He said the rice stock inventory rose by 40.3 percent last August due to higher rice importation, which RTL provided as it did not limit the importation of the basic commodity.
He said retail and wholesale prices of rice declined by about 6 percent to 8 percent to date, or about PHP3 per kilo as a result of the RTL.
"This access to cheaper rice is good for Filipino consumers," he said.
However, Pernia, who is also the National Economic and Development Authority (NEDA) Director-General, also stressed the importance to protect Filipino rice farmers.
"While consumers enjoy lower price prices, we must at the same time protect the Filipino farmers from falling palay prices. The government must fast-track and prioritize programs and projects under the Rice Competitiveness Enhancement Fund to boost production and improve the profitability of the Filipino farmers," he said.
The statement cited that a joint resolution that will help local farmers from declining rice prices is pending approval in Congress.
It also said an investigation on the anti-competitive practices is jointly being done by the Department of Agriculture (DA) and the Philippine Competition Commission (PCC).
"We are also on the lookout for upside risks to inflation that may emanate from the reported cases of African swine fever in the country and volatility in international oil prices poses," Pernia added. (PNA)