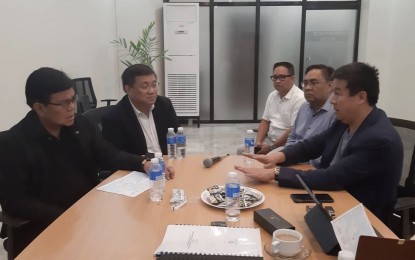 CEBU CITY -- A major fiber optic technology provider in the country is confident that it could bring Cebu's broadband speed to a different level, as the firm readies to roll out its "fastest fiber internet project" to serve homes and small businesses in the province.
Dennis Anthony Uy, president and CEO of Converge ICT Solutions, visited Cebu before the weekend to supervise the implementation of their fiber connection technology, seen to change the internet speed race in the metropolitan area.
Jake Diango, Visayas area head of Converge, said Friday their firm has seen a huge fiber-optic connection market in Cebu.
"There is great potential for Cebu. Cebu is underserved in terms of fiber optic connection. We are rolling out our new technology," Diango told the Philippine News Agency (PNA) in an interview, adding that the current internet connection here relies on the "old" technology.
"It will bring the broadband market into a different level," Diango said, adding that Converge's fiber optic connection serves up to 500 mbps for PHP1,500.
Uy, during his visit to the Cebu City Hall Thursday afternoon, disclosed that their firm has begun laying submarine cables to power their fiber optic connections in Cebu.
In September, Uy said the firm got a USD250 million (PHP12.8 billion) investment from the US-based Warburg Pincus, one of the world's biggest private equity firms, to help them roll out infrastructure as it aims to capture 30 percent of the country's broadband market in the coming years.
Uy said Cebu will be among the major beneficiaries of the investment they got from Warburg Pincus through its two-pronged submarine cable project converging in the metropolitan area.
Michael Maquiran, head of Converge's national consumer and SME sales, said the firm is profiling the internet market of Cebu's metropolitan area.
"We are currently in the middle of surveying on the areas, the highly populated ones. We (are now) identifying the towns and cities (for the project). We have to check on the technical capabilities, the terrain, and many other factors. But our main objective is really to roll as much number of homes, small businesses and enterprises for the entire island of Cebu," Maquiran told PNA.
He said Converge "will be serving broadband fiber to the homes", but will not be competing with the wireless and the wired networks of other telcos.
Maquiran said they will roll out purely fiber internet connection. "We are going to be roaming (with) our first on areas where they are not there," he added.
Converge is a National Telecommunications Commission (NTC)-licensed, congressional franchised, nationwide telecommunications and information and communications technology company based in Clark, Pampanga. It has 19 years of experience in providing reliable and quality ICT and broadcast solutions using pure fiber-optic technology. (PNA)