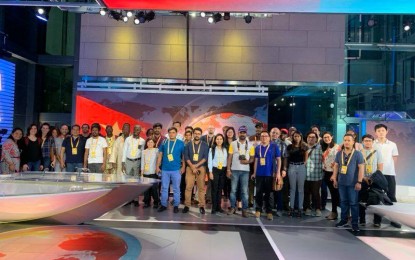 BEIJING -- Thirty-nine media scholars of the China International Press Communication Center (CIPCC) under China Diplomacy Public Association (CPDA) joined 1,100 foreign journalists who covered the recent 70th founding anniversary of the People's Republic of China (PROC).
The 39 journalists, including two from the Philippines, were selected from CIPCC's batches 2016, 2017 and 2018. They were joined by batch 2019 composed of 54 journalists from Asia, Africa, and Latin-America.
Prior to the October 1 main celebration, the CIPCC journalists attended side events such as media forums, press conferences and visited the smart city of Jinan in Shandong province.
Wu Hailong, president of CPDA, underscored the important role of media in the success of a nation.
He believed that the development of one's nation lies on the support of an objective delivery of news to the public.
"The media is an important link for enhancing friendship between peoples and promoting mutual learning among civilizations. Deepening media exchanges is of great significance to consolidating the popular support of developing countries, helping them achieve common development and building an objective and just environment for international public opinion," Wu said in a media forum.
Wu also urged the journalist to report the real China and present a three-dimensional and comprehensive image of China to the world by deepening pragmatic media cooperation in developing countries.
"It is hoped that this forum will promote closer exchanges and interaction between media from developing countries and more pragmatic news cooperation, enhance the international power of speech of developing countries, and tell the stories of China and other developing countries well," Wu said.
Director General of Information of the Ministry of Foreign Affairs and spokesperson Hua Chunying also recognized the effort of the foreign journalists and foreign students staying in China in writing in-depth and compelling stories to know the real stories of China.
"Working and studying in China, many media friends with their eyes, ears, and feelings have written a lot of depth and vivid the reports and comments, becoming window and bridges for their countries' mutual understanding and cooperation with China, played an important and positive role in order to help people of your country to understand a real, friendly, open, progressing China," Hua said.
"I hope that through your efforts, we can build more bridges of mutual understanding between China and the world and build more platforms for win-win cooperation," she added.
Selected journalists talked about China's massive development from 1949 up to present during the media forum titled "China in My Eyes: 70 Years of Impression and Reflections".
Papua New Guinea's Post Courier journalist Melisha Yafoi appreciated the effort of the China's mainstream media in establishing better relations with media companies in developing countries.
"A lot of the media get the information from the western media before and did not show Chinese content truthfully. Now China's mainstream media like Xinhua has established better media relations with foreign media companies in developing countries," Yafoi said.
For his part, Costa Rica's Extra TV 42 de Grupo correspondent Eduardo Jimenez Solorzano, noted the importance of history and culture in a nation like China.
"The more we see, the more we understand the importance of peaceful development. Today, Costa Rica has also set up a day to celebrate Chinese culture and to incorporate Chinese culture into educational and cultural activities. The world should know that China is making efforts to build world peace," Solorzano said.
5,000 journalists
More than 5,000 journalists, including 1,100 foreign journalists across the globe, witnessed and covered the historic celebration of the 70th founding anniversary of PROC.
The event showcased the significant changes and accomplishments of People's Republic of China over the last seven decades. Most of the journalists witness the National Day celebration on Oct. 1 for the first time.
Afghanistan's Daily Outlook newspaper correspondent, Syed Hujjatulah Zia can't help but amazed in attending the 70th year of China.
"Covering the 70th Anniversary of PRC's founding was a great opportunity. The celebration was a nice integration of China's military power, technological advancement, and culture show. It was really amazing to me. It was a very huge and magnificent event with thousands of performers from different walks of life," Zia said.
Thailand's MGR Online Chinese News Editor, Suratt Preechatham cherished the dedication of the ruling Communist Party of China's leaders and Chinese dedication in achieving their vision of moderately prosperous society in the past seven decades.
"It was exciting to join such great celebration of the China's 70th birthday. With all the activities we have attended, I can feel the pride of the CPC's leaders and Chinese people to their country," Preechatham said.
Upul Wickramangsinhe of Sri Lanka's Irida Lankapdeepa newspaper said it is truly grateful for the invitation to cover the PRC's 70th year and to reunite with some of his former co-media scholars from CPDA program.
"My visit to China to attend the 70th founding anniversary is surreal. During my stay in China for 10 months last year, I just heard some of the stories but now I can see through the eyes of the Chinese people their joy in achieving the vision of a progressive nation. It is also the best time to reunite with my old friends from overseas," Wickramangsinhe said. (PNA)