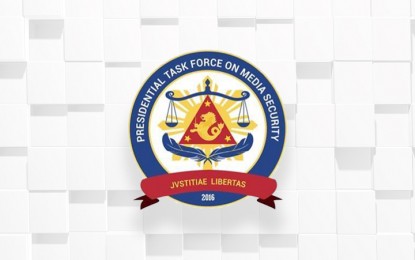 MANILA -- A regional trial court in Kidapawan City has issued a warrant of arrest against suspects in the killing of Brigada News FM anchor Eduardo Dizon, the Presidential Task Force on Media Security (PTFoMS) said on Monday.
The PTFoMS said Judge Henelinda Molina-Diaz of Branch 61 of the Regional Trial Court of Kidapawan City ordered the arrest of Junell Poten (alias Junell Gerozaga) and Sotero Jacolbe, Jr. (alias Jun Jacolbe) in connection with the murder charges filed against them by the Kidapawan City Prosecutor's Office last September 30.
Jacolbe surrendered to the authorities while Poten remains at large and is currently being tracked down by police operatives, the information provided by the PTFoMS Secretariat showed.
On the other hand, the accused and alleged mastermind Dante Tabusares (alias Bong Encarnacion) sought the suspension of the implementation of the warrant against him in a motion filed before the trial court, PTFoMS said.
He cited a pending Petition for Review of the City Prosecutor's resolution as ground for the suspension, it added.
The PTFoMS, meanwhile, vowed to continue to monitor the case.
PTFoMS co-chair and Communications Secretary Martin Andanar welcomed the court's arrest order against the two suspects.
"Though the authorities have yet to determine suspect Sotero Jacolbe's involvement in the case, we are hopeful that his surrender to the Kidapawan police will aid in the progress of solving Dizon's murder," said Andanar in a statement.
Andanar said the Presidential Communications Operations Office (PCOO) sympathizes with Dizon's family, hoping justice will be served for the death of their loved one.
"As a media practitioner, it saddens me every time I hear of the death of one of our own. We promise that the Duterte administration will continue to make strides in protecting press freedom in the country and the rights of the members of the press," he added.
Last July 10, Dizon was killed after gunmen on board a motorcycle shot and killed him while driving home after his radio program. He was the former manager of the radio station.
In the last election, Dizon ran for councilor in the municipality of Makilala, North Cotabato but lost. (PNA)