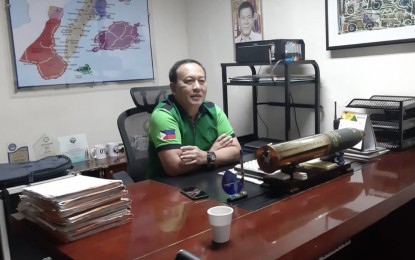 CEBU CITY -- The Department of Transportation's (DOTr) public utility vehicle (PUV) modernization program has earned the support of "all" the existing operators in Central Visayas (Region 7), a Land Transportation Franchising and Regulatory Board (LTFRB) regional official said on Wednesday.
Retired Col. Eduardo Montealto Jr., regional director of LTFRB-7, said the effort in consolidating all the estimated 20,000 PUV operators in Region 7 will soon be completed.
Montealto said 80 percent of the estimated number of operators of the 34,000-public utility jeepney, bus, trucks for hire, tourist bus, UV express van, and taxi units in the region have already completed their requirements to totally embrace the PUV modernization program of the government.
"The remaining 20 percent of that number of operators are still in the process of completing their registration under the (PUV modernization) program," Montealto said in an interview with the Philippine News Agency (PNA) in his office.
"By June 2020, we will have a full implementation of the PUV modernization," he added, stressing that by then, they will implement the total phaseout of old PUJs plying the roads.
Montealto's statement was made amid calls from different sectors to revisit the program, which was officially started in 2017, when President Rodrigo R. Duterte kept on pushing for the modernization of mass transport system in the country during his State of the Nation Address.
Montealto said the program was hatched after a thorough study by the national government before it was decided to be implemented three years ago.
The program aims to phase out 15-year-old or older jeepneys and replace them with Euro 4-compliant vehicles which can run on renewable energy.
He said each unit's cost ranges from PHP1 million to PHP2.2 million.
"Actually, this has long been a program of the past administrations. But it's the Duterte administration that has had the resolve to have it fully implemented," Montealto said.
The regional director of LTFRB-7 also reacted to comments from the transport groups that they find difficulties in registering under the PUV modernization program because of the high-interest rates and the tedious process in applying for clearances.
"It's normal in all transactions to ask for requirements. We need your birth certificate because only Filipinos can be an operator. We need your NBI (National Bureau of Investigation) clearance because we don't want a criminal to become an operator," Montealto clarified.
He said that 6 percent interest per annum for the seven-year amortization of a modern PUV is an acceptable rate.
He urged the public not to listen to the cause-oriented groups whose job, he claimed, is to oppose whatever programs that the government will undertake that are meant to better the lives of the people.
"What we are after for in the PUV modernization program is the convenience and safety of our passengers. Under this program, we will have an effective fleet management system that will avoid racing over the routes and eventually avoid road accidents. Under this program, a safety officer will ensure road-worthiness of all the vehicles," Montealto added. (PNA)