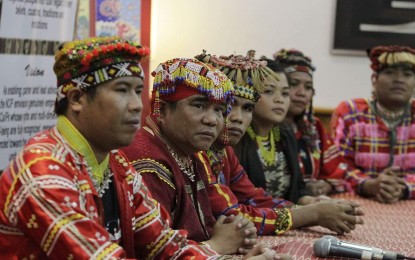 MANILA – The indigenous people (IP) leaders in Mindanao can now heave a sigh of relief upon learning the news on the closure of 55 Salugpungan Schools in the Davao Region by the Department of Education (DepEd).
In a press briefing in Malacañang on Wednesday, the eight-member delegation of IP leaders who reported the truth on communists' activities in their communities in Europe, said the closure of these schools is good for their tribes.
"Ang desisyon lang ng community namin is to abolish the Salugpungan school because mayroong masamang mangyayari at baka maubos na kami, magiging radical ang utak. Gusto naming paalisin na 'yung paaralan kasi masama na sa amin 'yun (The community's decision is to abolish Salugpungan school because it's bad for us and it might deplete our population and radicalize us)," said Datu Nestor Apas representing the municipalities of Talaingod and Kapalong in Davao del Norte when asked for his comment to the closure.
Apas also scored the Kabataan Party-list for opposing the closure of the Salugpungan schools, noting the organization does not know anything because they do not live in their communities in Mindanao.
"Sino ba talaga ang IPs doon, Kabataan Party-list o kami na nandoon? Itong mga kasama ko taga-Mindanao, ang taga party-list dito lang sa NCR [National Capital Region]. Bakit ba sila magsasalita? Wala kayong alam doon sa amin! Kayo, ang mga anak kaya ninyo paaralin doon sa Salugpungan? (Who are really the IPs, this Kabataan Party-list or us who actually live there? Me and my colleagues here are from Mindanao, this party-list's members are here in the National Capital Region. Why do they even speak? [They] do not know anything about us! They should send their children to Salugpungan schools there if they want.)," he said.
Datu Awing Apuga of the Ata Manobo Tribe in Talaingod, Davao Del Norte echoed Apas' sentiment saying his father, Datu Guibang, who used to be the chairperson for Salugpungan school but now leads the fight to shut down the school.
"Nakita niya doon sa katagalan na hindi nakakabuti sa kabataan ang tinuturo sa Salugpungan school (In his time there, he saw that it really does not do any good for us)," Apuga said.
He added that they were the ones who witnessed former Bayan Muna Rep. Satur Ocampo, ACT Teachers Party-list Rep. France Castro, and 15 others who took 14 minors from their tribe without their consent at around 10 p.m. of Nov. 30, 2018, in Talaingod, Davao del Norte.
The minors, according to a police report, were students of a Salugpungan school.
"At doon namin nakita na, nung nalaman na namin, sobrang galit kami. Iyong pagpunta ni Satur Ocampo doon, hinahabol na namin dahil parang inaapak-apakan kami, pinaglalaruan. Doon namin nalaman, ma'am, na [ginagamit lang nila kami] (Right there we realized, we were so mad, we felt betrayed. When Satur Ocampo went to our community [and left with our children] , we ran after him, we felt very insulted)," Apuga said, adding that the children will be used for propaganda by the communist movement against the government.
Meanwhile, Datu Panuliman James Binayao of the Manobo-Talaandig Tribe of Maramag, Bukidnon said it has become their tradition as IPs to preserve their culture which is giving respect to their elders who teach them their history so it may be passed on to the next generation.
"Ang Salugpungan school kasi ay sinisira nito ang aming kultura at tradisyon na darating ang panahon na wala nang magsusuot ng traditional attire at wala nang susunod sa kultura at tradisyon naming mga tribu, dahil sa ginagawa ng CPP-NPA na ang mga kabataan namin ay lumalaban na sa kanilang mga parents, lumalaban nga sa gobyerno at pumupunta sa daan upang mag-rally (This Salugpungan school ruins our culture and tradition. There will come a time that no one will wear these traditional attires and no one will follow in the footsteps of our tribe because the CPP-NPA teaches our youth to disrespect their parents, rebel against the government, and attend rallies)," Binayao said.
"Gusto naman namin talaga ng education, pero sana quality education na hindi masisira ang aming kultura at tradisyon, na sana edukasyon na hindi kami dadalhin sa kagubatan upang makipagbakbakan sa gobyerno. Iyon ang pinakagusto talaga namin, hindi iyong katulad ng tinuturo ng Salugpungan school (Of course we want education, but only if it is quality education you are going to give us not those that destroys our identity as IP. We want the kind of education that does not lead us to the forest and training to fight against government troops. We need an education that helps preserve our culture and traditions)," he added.
Parents support closure
Meanwhile, the League of Parents of the Philippines (LPP) also welcomes the closure of the Salugpungan schools in Region 11, noting that it rid the IP communities of "rebel recruitment grounds."
"Dapat lang po ipasara dahil ginagamit itong dahilan para makuha ang damdamin ng mga kabataan dito sa white area (It is just right that they were given the closure order because they make it as a reason to lure the university students here in the white area)," said LPP member Relissa Lucena, mother of student turned activist A.J. Lucena, in a phone interview.
Lucena appeared before a Senate inquiry recently to seek help from authorities to bring her daughter back to their home. Her daughter AJ said she has become a full-time member of Anakbayan that allegedly recruits minors into the Communist Party of the Philippines (CPP) and its armed wing New People's Army (NPA).
"Kinukumbinse nila ang murang edad ng aming mga anak na kailangan sila ng mga IP. Pero ang totoo gagamitin lang sila ng CPP-NPA (They [Makabayan Bloc] are convincing our children that the IPs need them but the truth is CPP-NPA is just manipulating their young minds)," Lucena said.
Lucena, with the help of the Criminal Investigation and Detection Group-Major Crimes Investigation Unit, filed charges of trafficking, and child abuse against left-leaning groups, after her daughter's alleged recruitment by Anakbayan.
Bayan Muna Party-list chair Neri Colmenares, Anakbayan chairperson Vencer Crisostomo, Kabataan Rep. Sarah Elago, and Anakbayan spokesperson Alex Danday were issued a subpoena to appear before a court.
Salugpungan schools' infractions
On Tuesday, DepEd 11 (Davao Region) announced the closure for 55 Salugpungan Schools operating in their area due to several violations, including bringing the students away from their homes without the consent of their parents.
The DepEd also found out that the teachers of the Salugpungan schools lacked the professional license to teach or not passers of the Licensure Examination for Teachers.
The schools have been operating within the ancestral domain of tribal communities without obtaining the mandatory Free and Prior Informed Consent (FPIC) and the subsequent certification precondition from the National Commission on Indigenous Peoples (NCIP), the DepEd added.
Joel Dahusay, an IP teacher from Talaingod in Davao del Norte, said apart from Salugpungan Ta' Tanu Igkanugon Community Learning Center, there are also other learning centers that the CPP-NPA-NDF created such as TRIPS (Tribal Filipino Program for Surigao Del Sur), MISFI (Mindanao Interfaith Services Foundation, Inc.), Save Our Schools (SOS) network.
He also named the Rural Missionary of the Philippines (RMP) as one of the organizers of these schools.
"Ang lahat ng eskuwelahang na ito ay ito ang pugad ng mga rebelde. Alam ba ninyo, bawat year/taon na may magradweyt doon sa kanilang eskuwelahan ay madadagdagan ang mga fronts ng CPP-NPA-NDF (All of these schools are nestling grouds of the rebels. Each year as students graduate, they are added to the CPP-NPA-NDF's front)," he said.
In 2016, they only have up to Front 55 in Talaingod but a year after, Front 56 was formed, he added.
"And right now, they have PBC 6, iyong tinatawag na PBC – Pulang Bagani Command. At ngayong 2018, mayroon naman silang PBB – Pulang Bagani Battalion. Saan galing iyong Bagani? Parang in-adopt nila iyong kultura namin na kaming tribo ay may sariling bagani. Iyong tinatawag na 'bagani,' iyon ang taga-protekta sa teritoryo ng tribo. Pero ano ang ginagawa ng CPP-NPA? Parang ginagamit nila ang aming tribo at isa pa - iyong pinakamasakit, sir/ma'am - iyong ancestral domain namin ay ginagawa nilang training ground at guerilla base kung saan sila mag-training upang gamitin ang tribo namin (They have Pulang Bagani Command and Pulang Bagani Battalion in 2018. Originally, Bagani to us means protector of tribe's territory but the CPP-NPA used that term to their favor. It is not for us. They are using our tribe and worse is, they have made our ancestral domain as their training grounds and guerilla base)," Dahusay said.
DepEd 11 spokesperson Jenelieto Atillo, said on Tuesday the findings released by DepEd-11 will form the basis of another fact-finding investigation at the national level.
While he did not elaborate, Atillo said a wider investigation will likely explore Salugpungan schools' alleged ties with the communist movement.
Salugpungan's suspension on July 10 this year came about after Education Secretary Leonor Briones directed DepEd-11 to look into allegations made by National Security Adviser Hermogenes Esperon that Salugpungan-ran schools were being used as training and recruitment centers for the NPA.
Truth caravan
The IP group was in Europe from September 10 to October 4 for the Europe Truth Caravan against the CPP-NPA.
The IP leaders visited Italy, Switzerland, Belgium, Germany, and France to share their stories of struggles in the hands of communist rebels and encourage international front organizations to cease monetary donations to fund the NPA.
Apas said the government did not shell out any funds for their trip since they saved PHP1.1 million worth of funds in two years to pay for their own trip.
"Two years namin pinaghandaan ang mga endorsement namin. Dahil na-inspire kami doon sa sinasabi ni Presidente noong nag-conference, na kayong mga katutubo, hindi kayo tinalikuran ng gobyerno, ang nangyari sa inyo nakalimutan lang kayo, kay hindi kayo assertive, hindi kayo nagsasalita, laging doon-doon lang kayo sa tabi-tabi (We prepared for this for two years because we were inspired by what the President said in a conference that 'you tribal groups are not being ignored by government, what happened is you're forgotten because you're not assertive, you don't talk, you stayed in one corner)," Apas said.
He added that there were two businessmen who provided them with additional funds for their trip but refused to name them for their protection.
They were accompanied by Presidential Communications Operations Office (PCOO) Undersecretary Lorraine Marie Badoy who said the government will be submitting the list of non-government organizations (NGOs) in the Philippines with confirmed connections with the CPP-NPA.
In an interview, Badoy confirmed that no funds were spent for the IPs leaders' trip but the government did provide them with assistance in processing their passports and visas.
Badoy said the Filipino communities in Europe also provided the IP leaders with food and shelter.
The CPP-NPA is listed as a terrorist organization by the United States, the European Union, United Kingdom, Australia, Canada, New Zealand, and the Philippines. (PNA)