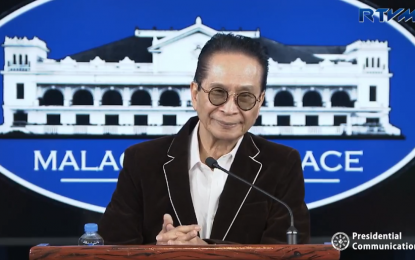 MANILA -- After initially rejecting a youth group's dare to take mass transport to experience the daily plight of commuters, Presidential Spokesperson Salvador Panelo said he will accept the challenge.
Panelo said he will commute from his home to Malacañang in San Miguel, Manila on Friday (Oct. 11).
"The challenge to commute is accepted. This coming Friday I'll take the jeepney and the LRT (Light Rail Transit) in going to work," Panelo said in a text message to reporters.
Earlier, Panelo brushed aside the dare as "silly" saying that "the road in going to work and returning home or going elsewhere in Metro Manila is a given".
"Whether you commute or drive, one is subjected to the same vexing inconvenience and delay, as well as the loss of precious time," he added.
On Tuesday, Anakbayan dared Panelo, President Rodrigo Duterte, Transportation Secretary Art Tugade, and Manila Metropolitan Development Authority (MMDA) Celine Pialago to "commute to work every day for a week to experience the hellish reality of our everyday commute".
Anakbayan's challenge came after Panelo denied Bayan Secretary-General Renato Reyes Jr.'s claim that Metro Manila is facing a "mass transport crisis" after three train systems encountered glitches.
In a statement, Panelo insisted that there is no mass transport crisis because the problems were "solvable" and that commuters are still able to reach their respective destinations.
He said government is currently rehabilitating the country's mass transport systems and called the attention of the management to "do more" in providing efficient service to the public.
"I stand by my statement: there is no mass transport crisis. The crisis is in the sufferance of commuters and motorists; while the other crisis is in the inefficient operation and maintenance of the LRTs -- the crisis is in its poor management," he added.
The Department of Transportation (DOTr) also denied that there is a mass transport crisis but admitted that there are "transport issues and problems" that are currently being addressed.
Infrastructure projects under construction are the Metro Manila Subway, Metro Rail Transit Line 7 (MRT-7), Light Rail Transit Line 1 (LRT-1) Cavite Extension, LRT-2 East Extension, Philippine National Railways (PNR) Clark Phase 1, Common Station, PNR Calamba, PNR Bicol, LRT-2 West Extension, Subic-Clark Railway, and the Mindanao Railway. (PNA)