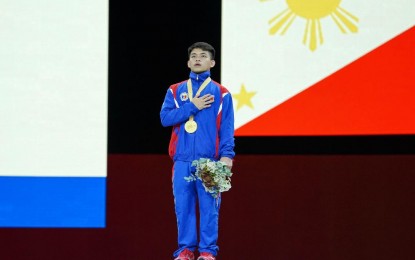 MANILA -- Philippine Sports Commission (PSC) Chairman William 'Butch' Ramirez said no less than President Rodrigo Duterte lauded Carlos Edriel Yulo for winning the country's first-ever gold medal in the 41st FIG Artistic Gymnastics World Championships on Saturday (Oct. 12) at the Hans Schleye Halle in Stuttgart, Germany.
"We are thrilled with the golden performance with Yulo at the world champs. President Rodrigo Duterte is happy," Ramirez said in a statement on Sunday.
Ramirez, also chef de mission of the Team Philippines to the 30th Southeast Asian Games, said Executive Secretary Salvador Medialdea and former Special Assistant to the President and now Senator Christopher Lawrence 'Bong' Go have monitored Yulo's historic performance in Germany.
"The Office of the President and the PSC family congratulate Caloy (Yulo's nickname) on this achievement. Mabuhay ang atletang Pilipino! (Long live the Filipino athletes)," Ramirez said.
Philippine Olympic Committee (POC) president Abraham 'Bambol' Tolentino said Yulo's accomplishment should serve as an inspiration to Filipino athletes, particularly those who will compete in the SEA Games which the Philippines will host from Nov. 30 to Dec. 11 this year.
"We would like to congratulate Caloy Yulo and the Gymnastics Association of the Philippines (GAP) in producing a world champion. His hard work and dedication paid off," Tolentino said.
GAP president Cynthia Carrion said Yulo's victory "will have a huge impact on Philippine gymnastics since we have proven that we can produce world champions in the sport".
"We hope that we will get more supporters for the sport now with his success," she added.
Yulo and Japanese coach Munehiro Kugimiya, who were earlier scheduled to fly back to Tokyo to resume training, were prevailed upon by Carrion first to return to Manila because Ramirez was arranging for all three of them to pay a courtesy call on Duterte in Malacanang on Wednesday.
Virtuoso performance
Performing next to last among the eighth finalists, Yulo came through with an awe-inspiring display of grace, artistry, and athleticism in securing the gold with an eye-popping score of 15.300 points.
The shoulders of Israel's Artem Dolgopyat, the erstwhile frontrunner with a seemingly untouchable tally of 15.200 points until the Yulo's turn came up, sagged when Yulo's score was flashed on the huge TV screen proclaiming who had won the event by a hairline.
Also playing a major factor in the victory was the degree of difficulty of Yulo's routine -- the highest among the entries at 6.500 to Dolgopyat's 6.400 -- that proved to be the winning edge
In a country marking its annual popular Oktoberfest, there was much to celebrate inside the 15,000-seat arena as the gallery of 14,000 roared in approval when the Filipino gymnast pumped his fist as the score flashed -- aware that the gold was in the bag.
Likewise, eclipsed by Yulo's triumph was China's Xiao Ruoteng, the men's all-around silver medalist in the 2018 edition held in Doha, Qatar, who likewise seemed a cinch for silver with his score of 14.933, only to be relegated to the bronze in the face of the Filipino's virtuoso performance.
Kugimiya, whose stern training over six years had molded the once rough diamond into a world-beater, was seen in tears while watching his ward humble the giants in the sport.
Among them was newly-crowned Russian all-around champion Nikita Nagornyy, who could only muster 14.166 in opening the all-around finals and wallowed in sixth place.
The same for defending floor exercise champion and compatriot Artur Dalaloyan, who placed fourth (14.800), as the diminutive Pinoy gymnast stood head and shoulders above the rest of the impressive field.
Yulo's outstanding performance apparently unnerved Briton Dominick Cunningham, the 2018 European floor exercise champion and the last gymnast to perform, and he wound up dead last with a tally of 13.566 points.
And for the first time in the 41 editions of the global gymnastics showcase, the Philippine national anthem was played in the tournament that drew the best gymnasts from 92 countries to this picturesque German city.
"I am speechless because I did not expect to win because I thought the Israeli's score was far too high," admitted Yulo. But I wanted to show everyone what I could do so I just wanted to do my best. Talagang napakasaya ko po (I'm really happy)," Yulo said.
"I am happy for Caloy because all his hard work and sacrifice paid off. Actually, he has done better in practice so I was confident about his performance," Kugimiya said.
During the post-event interview, the 19-year-old Yulo paid tribute to his Japanese coach by taking off the gold medal and draping it around the Japanese mentor's neck.
"Mas confident po ako sa landing ko ngayon kaysa duon sa all-around finals last Friday. Malaking bagay din po iyon (I was more confident on my landing now compared to all-around finals last Friday. That was a big help)," said Yulo. "It was God who gave me this gold because I could not have done it on my own."
The golden finish also ensured the GAP protege will see action in two men's artistic gymnastics events in the Tokyo Olympic Games.
He earlier qualified for the men's all-around event as early as Monday when he finished 18th in the qualifiers, and underscored that the feat was no fluke when he placed No. 10 in the finals last Friday.
"I'm a bit scared now," admitted Yulo, knowing that he would be a marked man in the event in the Tokyo Olympics.
Another top competitor
Xiao told Xinhua News Agency that he noticed Yulo had made great progress in recent years and his moves were always hard, but he was still surprised to see Yulo crowned.
"I thought Dolgopyat might be the best and I took him as the strongest competitor. Dolgopyat got a higher mark than me, which is predictable, and now I seem to have another top competitor," Xiao said.
Dolgopyat of Israel settled for silver and he hoped to upgrade it to gold in the future.
Simone Biles of United States kept her domination on women's vault and defended the title with an averaging 15.399 for her Cheng vault (6.0 Difficulty) and Amanar (5.8 Difficulty) in two attempts.
Rio Olympic champion Max Whitlock of Britain won a thrilling final on pommel horse, adding his third career world title on the event following victories in 2015 and 2017.
Elsewhere, Nina Derwael of Belgium defended her title on uneven bars with 15.233. Ibrahim Colak struck gold on the rings with 14.933, to become the first Turkish world title holder in gymnastics. (PNA)