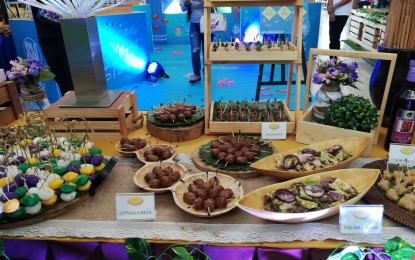 ROSALES, Pangasinan -- Dagupan City's famous bangus (milkfish), Calasiao's "puto" (native rice cake), Tayug's Sunflower Dance Festival, among others, were featured at Pangasinan's BESTival that kicked-off on Monday here.
In an interview, Provincial Tourism and Cultural Affairs Office (PTCAO) special events officer Marife Acerit said Pangasinan's best products will be exhibited at SM Center Urdaneta City on Oct.17-19.
SM City Rosales marketing manager Alta Grace Cera, in an interview, said among the featured best products in the province are Dagupan's "kaleskes" and "pigar-pigar" (tender beef dish), Balungao's "patupat" and Villasis' "tupig" (grilled rice cakes in banana leaves), and Alaminos City's longganisa (native sausage).
Cera said the largest longganisa pasta will be showcased at SM Center Urdaneta City on Oct.19.
She added that BESTival aims to promote the cuisine and delicacies, as well as the culture and arts of Pangasinan to the mall-goers.
The Tayug National High School students also performed Pangasinan folk dances, such as the "wasiwas" (fishing ritual), courtship dance, as well as the Sunflower Dance Festival, she said.
"We will also exhibit artworks of Pangasinan local artists like the members of Biskeg and Guhit Pinas (artists groups in the province) on Oct. 19 at the SM Center Dagupan City and on Oct. 20 here at SM City Rosales," she said.
BESTival is an activity of the SM Prime Holdings Inc. together with the Provincial Tourism and Cultural Affairs Office (PTCAO) and the local government units (LGUs), which runs from Oct. 14-20 to boost tourism.
"The Department of Tourism said among the favorite destinations of tourists is now the mall so we come up with this activity to feature what is in Pangasinan considering there are a lot of people who visit the SM malls," she said. (PNA)