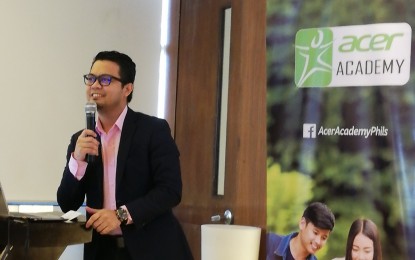 MANILA -- Acer Philippines and Microsoft Philippines on Monday joined hands to further boost digital literacy among students.
The two firms, via the Acer Academy, will soon offer Microsoft certification program to the academy's 188 partner schools. The Acer Academy is a program that targets to promote digital classroom framework.
"The Microsoft certification program is actually ongoing. By partnering with Acer, we would reach more schools. We would soon start offering and orienting them about this program," Paolo Balinas, Microsoft Enterprise Channel manager for Education, told the Philippine News Agency (PNA).
He noted that the Microsoft certification is recognized globally.
In a press conference, Balinas said that certification adds to the employability of the students.
"What kind of education do they need to be prepared for the fourth industrial revolution? The '2015 Value of IT Certification Survey' says certification creates an impact, with 90 percent of hiring managers saying they think certified (individuals) are more productive than the non-certified," he said.
Balinas said that at present, Acer's partnership with Microsoft would involve an in-depth training in utilizing Microsft Word, Excel and Powerpoint.
"Our long-term vision is to align (the training) to what the industry is looking for. For example, now many of our local schools offer data science courses. Huge banks need that, and would look for ways to have their staff trained in data science without the need of sending them abroad," Balinas said.
On the other hand, Acer general manager Sue Ong-Lim noted that the Acer Academy is not just about delivering devices and solutions, but making sure that it is delivering the best education.
Microsoft training provider, Francis Hernandez, added the partnership between Acer and Microsoft also aims to address the employment woes in the country.
"We envision that partner schools would become testing centers or assessment centers. All they need are the necessary hardware, software, bandwidth, and at least one certified faculty," he said.
Hernandez added that they would recommend the program for the graduating batch. (PNA)