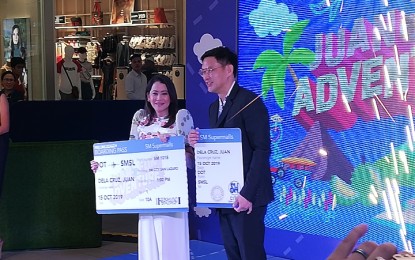 MANILA -- The Department of Tourism (DOT) on Tuesday unveiled six immersive photo pod installations of Philippine destinations at the SM City San Lazaro, as part of its nationwide caravan for the "Malling is More Fun in the Philippines" campaign to encourage travel among shoppers.
In her speech, Tourism Secretary Bernadette Romulo-Puyat said the agency considers shopping "a very serious business".
In the National Tourism Development Plan of 2016-2022, leisure, entertainment, and shopping tourism are one of the 10 products the DOT wants to enhance in the next few years.
"We see shopping tourism as a catalyst for economic growth, one that can create jobs, livelihoods, and enterprises, and help the Philippines become a globally recognized quality destination," she said.
"On its own, the SM Group has long been a strong driver of local tourism. Through the parent conglomerate, SM Prime Holdings, it has helped develop the country's hospitality sector, with major investments in Conrad Manila, Taal Vista Hotel, Radisson Blu Hotel in Cebu, and many more," she shared.
In SM malls nationwide, the mall chain giant gets at least 4 million in foot traffic daily. With this alone, SM Supermall chief operating officer Steven Tan is optimistic the initiative could reach more audiences to promote Philippine destinations as well as DOT's sustainable tourism practices.
The newest initiative is called Juan Fun Adventure under SM Supermalls and DOT's "Malling is More Fun in the Philippines" campaign, which was originally launched last May.
The pilot area is in SM San Lazaro where at least six "travel pods" or social media-worthy dioramas are on display showcasing the majestic Mayon Volcano in Albay, the Sirao Flower Farm in Cebu, Puerto Princesa's Underground River, Davao Farm, the Aliwagwag Falls, and Calle Crisolo in Vigan to the north.
DOT Assistant Secretary Howard Lance Uyking said malls are strategic places in promoting destinations, particularly the lesser-known ones because of its huge daily foot traffic.
"We're hoping that when they go to the mall to either work or to shop, they'll be able to see these dioramas and somehow inspire them to travel domestically. We're going mall to mall from Luzon, Visayas, and Mindanao," he told reporters in an interview.
While retail stores are closing in the United States, Uyking said the case in the country is different as malling is already part of the Filipinos' culture.
"Malls have already been integral in the lives of Filipinos. I think our culture is different because we do a lot of things in malls. Not only are there activities here, but all the restaurants are here, all the shopping brands are here, that's the difference between our malls and the malls of other countries," he said.
The official said the Juan Fun Adventure caravan will run until April 2020, which will also feature talks on eco-travel tips and how to be responsible tourists.
The installation can be visited in the following SM malls: SM San Lazaro (October 15 to 26), SM Fairview (October 28 to November 9), Mall of Asia (November 11 to 17), SM Megamall (November 18 to 24), SM Masinag (January 8 to 15), SM Aura Premier (January 17 to February 2), SM Marikina (February 4 to 26), SM BF Parañaque (February 28 to March 15), SM East Ortigas (March 17 to 24), SM Sucat (March 26 to April 9), and SM Manila (April 11 to 30). (PNA)