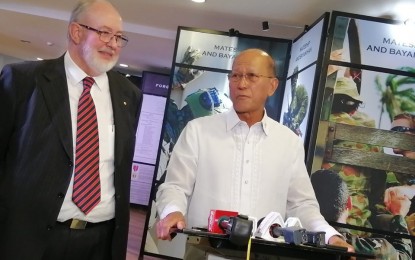 MANILA -- Department of National Defense (DND) Secretary Delfin Lorenzana on Thursday said he sees nothing wrong with the co-location memorandum of agreement (MOA) signed by the Armed Forces of the Philippines (AFP) with Dito Telecommunity (formerly Mindanao Islamic Telephone Company) last September 11.
"(There is) nothing wrong, it's the same as Globe and Smart," Lorenzana said on the sidelines of the launch of the "Mateship and Bayanihan: The Story of Philippine-Australian Defense Ties" exhibit held at the QCX Museum, Quezon Memorial Circle in Quezon City.
Lorenzana made the statement when asked whether he already came up with a decision on the co-location MOA.
While stressing that he is likely to approve the deal, the DND chief said he is still waiting for comments coming from the Senate as senators have requested copies of the contract for review with the MOAs with the two telecommunication firms.
"They requested us to submit the contract for the third telco and the documents for the other two. According to them they are going to look at it, (the documents) have been them for two and a half weeks," Lorenzana said.
The DND chief was abroad on an official trip when the co-location MOA was signed by the AFP and Dito Telecommunity.
But Lorenzana earlier stressed that all Dito Telecommunity equipment and facilities will be placed in locations where local carriers, Smart and Globe, are also located, based on a similar MOA signed by these telecommunication firms.
"Smart and Globe also has many towers (inside our) camps. The third telco will have to place their facilities near these sites," he added. Dito Telecommunity is composed of Chelsea Logistics and Infrastructure Holdings Corp., Udenna Corp, and China Telecom.
It was conferred with the status of New Major Player in the telecommunications industry by the National Telecommunications Commission on November 19, 2018. The AFP and Dito signed the co-location MOA last September.
Former AFP chief Benjamin Madrigal, Jr., earlier bared that partnering with Dito Telecommunity is nothing new as similar MOAs have been entered with Smart and Globe.
Based on the agreement, the AFP will determine specific locations with its rental value for use of Dito Telecommunity in the installation and management of its communications sites without undermining the operations of affected AFP units.
The telecommunication firm is also required to "furnish all equipment, labor, and materials necessary to effect the co-location of its facilities and shoulders all expenses in connection with or incidental to the co-location" and payment of all taxes, permits, licenses, and other charges. (PNA)