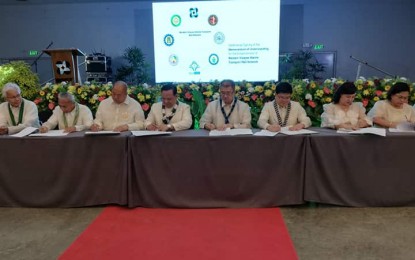 ILOILO CITY – The Department of Science and Technology (DOST) on Monday launched various projects to highlight the week-long celebration of the Regional Science and Technology Week (RSTW) and 2019 Regional Invention Contests and Exhibits (RICE) in Western Visayas that kicked off in this city.
DOST Secretary Fortunato de la Peña led the launching of the logo of Innovate Iloilo, which is a public-private sector movement and strategy to promote innovation across Iloilo, held at the Iloilo Convention Center in Mandurriao district here.
He also graced the soft launching of the Project Ulat satellite ground receiving station that will get images from Diwata 2, which captures images of the Earth for environmental assessment and in monitoring the country's natural resources. The roughly PHP30-million project is hosted by the Iloilo Science and Technology University (ISAT-U) through its Dumangas, Iloilo campus.
Meanwhile, seven state universities and colleges (SUCs) in the region signed a memorandum of agreement with the DOST in coming up with a research and development network that will respond to issues on marine transportation.
"What we would like to happen is we come up with a roadmap for the marine transport modernization of Western Visayas and that strategy will now be the one to be followed by all universities who will be engaged in maritime transport," said DOST Regional Director for Western Visayas Rowen Gelonga in a press conference following the opening program of the RSTW.
Gelonga said they believe they can achieve more if they form a network. Among the possible research areas that will be pursued by the Western Visayas Marine Transport Research and Development Network are the development of modern marine transport vessels, automatic identification system (AIS) and other Information Technology (IT)-based applications and anti-biofoulant coating agents.
"Although the budget for research and development (R and D) is going up for the past few years, but nevertheless our R and D resources are still scarce compared to what we really actually need. If we bond together as one network, then we can pool resources together," he said.
Dela Peña, in his keynote address, said that they have partnered with higher education institutions (HEIs) in responding to the goal of reducing inequality, particularly in the science and technology capabilities.
Before, he said, research grants were enjoyed only by around 80 HEIs in the country out of the more than 2,000 institutions offering college degrees.
"We try to reduce inequality by trying to identify the strengths of HEIs in the regions and support them so that they carry out research and development, technology transfer and consumer resource development activity in their specialized areas," he said.
In his message, he also underscored the significance of the RSTW as he cited that science and technology can contribute significantly to the achievement of the sustainable development goals (SDGs).
Apart from the launching of major projects, the event that will end Oct. 25 also features exhibits, mini-robotics workshop and competition, filmmaking launching and workshop, Innovation Challenge, STEM in Motion Mobile Learning Facility and DOST-Philippine Atmospheric, Geophysical and Astronomical Services Administration (PAGASA) mobile planetarium, among others. (PNA)