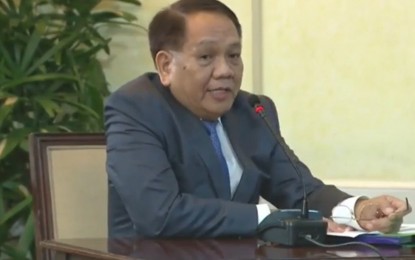 MANILA -- Malacañang expressed confidence that the Supreme Court would continue to thrive under the leadership of newly-appointed Chief Justice Diosdado Peralta.
This after Executive Secretary Salvador Medialdea confirmed that President Rodrigo Duterte has appointed Peralta, former Associate Justice, to lead the Supreme Court following the retirement of Lucas Bersamin.
Medialdea said the President signed Peralta's appointment paper on October 23.
Presidential Spokesperson Salvador Panelo spoke highly of Peralta for serving the judiciary for more than three decades in various capacities.
Peralta served in the judiciary as a trial court judge, associate justice and presiding justice of the Sandiganbayan, and associate justice.
"We are certain that with Chief Justice Peralta at the helm of the Supreme Court, the Judiciary will continue to be well-managed as it thrives to uphold the principles of judicial excellence, integrity, and independence," Panelo said in a statement.
Panelo also enumerated Peralta's many accomplishments including landmark decisions such as the imposition of the death penalty on a policeman who used his service firearm to shoot an 11-year-old boy while flying his kite on a rooftop in People vs. Fallorina.
He said it was also Peralta who made the decision on the first conviction for plunder involving a cashier of the Bureau of Internal Revenue (BIR) in People vs. Manalili and the first and only conviction of Qualified Bribery under Article 211-A of the Revised Penal Code, as amended, involving a substantial number of police officers in the case of suspected foreign drug traffickers.
The Palace official said Peralta also convicted the most number of accused involved in big-time drug cases and other serious crimes.
For his contributions, the Supreme Court, during the Court's Centennial Celebration, and the Integrated Bar of the Philippines conferred the Special Centennial Awards in the Field of Criminal Law to Peralta, Panelo said.
The newly-appointed Chief Justice was recognized for his "credible and no-nonsense management and expeditious disposal of heinous crimes and drug cases… [which have] visibly strengthened the Philippine Criminal Justice System and helped bolster and maintain respect, trust and confidence in our criminal courts."
Peralta bested Associate Justices Estela Perlas-Bernabe and Andres Reyes Jr., the two other magistrates who made it to the shortlist for the country's next Chief Justice endorsed by the Judicial and Bar Council.
Perlas-Bernabe was appointed to the Supreme Court by former President Benigno Aquino III in 2011, while Reyes got a seat at the high court in 2017.
Peralta will serve as Chief Justice until his mandatory retirement on March 27, 2022. (PNA)