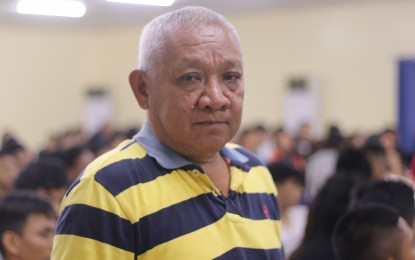 MANILA -- An outspoken former rebel is now taking responsibility to educate young Filipinos on the deception of the Communist Party of the Philippines - New People's Army (CPP-NPA).
The 59-year-old former NPA official, who wanted to be called "Tatay Ben", on Thursday shared his 10-year involvement with the rebel group at the Philippine Air Force's Campus Peace Development Forum, held at the Villamor Air Base in Pasay City.
Originally from Mindanao, Tatay Ben said he was deeply saddened upon seeing mothers weeping on television during a recent Senate hearing, as they sought help to find their children who were allegedly recruited by progressive youth organizations.
"Nakakita ka? Luoy kaayo ang mga Mama sa TV, akoang mama sa una, niuli man ko, three years mi wala nagkita, blind kaayo sila wala jud sila kabalo asa ko. Pag-abot nakog balay, pirting hilak sa akoang mama, pareha ato sa ilaha sa TV (Have you seen it? I feel sad watching those mothers on TV. During my time as a rebel, I only visited our home after three years without contacting my family. My mother cried so much too, like those mothers on TV)," he said in an interview.
After visiting his parents, he said he went back to their lair in Davao Oriental because he was already a ranking leader of the NPA.
"Wala naman talaga akong plano mag-NPA. Sundalo ang tatay ko. Kagwapo-gwapo nakog plastar sa akong kinabuhi sa una nga mag abogado ko kay para nindot (I did not plan to be an NPA rebel. My father was a soldier. I have envisioned then that I have to be a lawyer so I would live a good life)," he said.
Deception
Tatay Ben recalled that it was in 1975 when communists approached him in the now-closed International Harvardian University. He was only 14 and a third-year high school student.
"Among school kay tupad ra na sa mga balay-balay didto sa Malvar unya naay miduol sa amo, abi namo taga didto ra nagpuyo, mangutana na sila na unsa daw akoang obserbasyon sa Martial Law unya didto na nagsugod, apil-apil nako sa ilaha ato (Our school was in a residential compound in Malvar [Davao City]. Someone approached us and asked what our observation was about Martial Law. We thought he was staying there so we weren't wary. That was the start. After that, I became part of their activities already)," he added.
Tatay Ben said he would speak during protests and even organized one if his comrades were busy with other activities.
It was a certain Romulo Kintanar who recruited him into the party, he said, adding that Kintanar, was killed in 2002 by his former comrades in the NPA while he was eating in a diner on Elliptical Road in Diliman, Quezon City.
Kintanar, at that time, had begun dissociating himself from them and the movement, Tatay Ben said.
"Sa school noon, napansin ko na ang dami ko nang classmate na hindi pumapasok. Mga dose sila ganon, na kasama ko rin sila na nag aktibista. Sinabihan ako nila Kintanar dati na baka na-salvage na daw ng mga pulis. Tapos baka ako daw susunod kasi identified na ako. Natakot na talaga ako noon kaya pumunta na rin ako sa bundok kasama sa kanila (In school, I noticed that many of my classmates no longer showed up in class. Kintanar said that maybe, they were already salvaged by the police and that I could be next. I was so scared, so I went with them to the countryside)," he said.
However, when they arrived at their lair in Davao Oriental, he found some of his classmates there.
"Hindi pala sila patay, andun na pala yung mga classmate ko sa bundok, na nag-NPA na sila. Nauna lang sila sa akin (They were not dead like what the recruiters and communists said. My classmates were just ahead of me in the countryside and became NPA rebels)," he added.
Serving back
When he was captured in 1985, he said military personnel took care of him.
That was the time he realized that he had wasted years of his life in communism.
"Buanga no, gitarong gud ko nila unya kalaban baya namo sila (It's so crazy, they actually took good care of me even if I was an enemy)," he said. "Wala man jud to padulngan among gihimo. Lisod-lisod ra mi (Our fight did not have any direction. It just made our lives difficult)."
"Kani among ginahimo karon para ma salba pud ang uban ba, di mapareho sa amo kay dili gyud lalim uy. Napulo ka tuig sige ra mig panghulga sa mga tao, pangwarta sa mga naay negosyo (What we are doing is a way to save others who have not yet been persuaded, so they wouldn't end up like us. Imagine, it was 10 years of my life pointing guns at civilians so we could have beds to sleep on, and extorting funds from businessmen)," he added.
On Thursday, he went with the Philippine Army to conduct an awareness drive among students who are vulnerable to the recruitment of progressive youth organizations.
PAF Civil-Military Operations commander, Lt. Col. Sir Byron de Ocampo, during the forum, expressed his gratitude to students of the Taguig City University (TCU) for taking time to listen and participate in the discussion.
He also convinced them to join the Supreme Student Council Society of the Philippines that they launched on October 19 as one of the elected officers of the council was a TCU graduate.
Student leaders from Luzon convened for the launch of the Supreme Student Council, which is in support of the government's campaign against communist insurgency and seeks to promote peace and development in the country.
De Ocampo added that they were training the members on leadership and other basic life skills, such as life support and search and rescue operations.
The CPP-NPA is listed as a terrorist organization by the United States, the European Union, the United Kingdom, Australia, Canada, New Zealand, and the Philippines. (PNA)