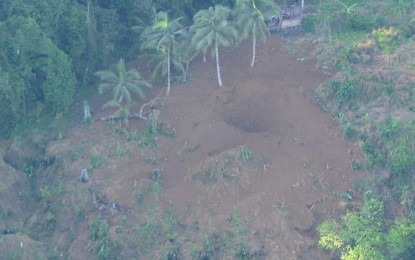 TACLOBAN CITY -- The deployment of new Philippine Air Force FA-50 fighter jets that dropped 500 pounds of bombs damaged a New People's Army (NPA) lair in the outskirts of Las Navas, Northern Samar town over the weekend.
Capt. Reynaldo C. Aragones Jr., spokesman of the Philippine Army's 8th Infantry Division, said in a statement issued Monday that the airstrike surprised 50 fighters of the communist terrorist group led by Ceriaco Jerusalem in upland Caputoan village of the said town.
"The Joint Task Force Storm under the Armed Forces of the Philippines (AFP) central command and the Philippine Army orchestrated the joint operations to locate and annihilate the said NPA group, which had been monitored doing extortion from the communities in the province," Aragones said.
For the first time, government troops utilized the Philippine Air Force supersonic FA-50 jets to conduct surgical airstrikes that destroyed makeshift huts built by NPA fighters.
Soldiers recovered from the lair civilian backpacks, military-type backpacks, hammocks, sacks of rice, assorted food supplies, sacks of land mines, mobile phones with chargers, an I-com radio, a laptop, a landline tester and flash drives.
Also seized were SIM cards, external drives, assorted blasting caps, a roll of detonating wire, live ammunition, an empty magazine for carbine, improvised grenades, anti-tank land mines, assorted medical supplies and subversive documents.
"Ongoing search and pursuit operations by troops under the Army's 803rd Infantry Brigade are being sustained to ensure that the terrorists are caught. Bloodstains along the path of the fleeing rebels indicate the heavy casualties inflicted on the communist terrorists," Aragones said.
The AFP, he said, will continue to employ modern methods to neutralize the communist terrorist group in Eastern Visayas in adherence to Executive Order 70, which institutionalizes the whole-of-nation approach in attaining inclusive and sustainable peace. The directive created a national and local task force to end local communist armed conflict.
The military thanked residents for sharing information on extortion activities of NPA rebels in Northern Samar considered to be the NPA's stronghold in Eastern Visayas due to poor road network, thick forest, high poverty incidence and low level of education in upland communities.
The NPA, which has been waging a five-decade armed struggle against the government, is listed as a terrorist organization by the United States, the European Union, the United Kingdom, Australia, Canada, New Zealand, and the Philippines. (PNA)