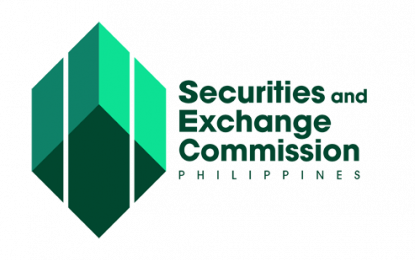 MANILA -- The Securities and Exchange Commission (SEC) continues to stamp out illegal lending activities with another cease and desist order covering six online lending operators.
The Commission en banc issued the order on October 24, enjoining the operators and owners of Batis Loan, Happy Credit, Easy Cash, Wahana Credit & Loan Corp., PesoMaMa and Light Kredit to immediately cease and desist under pain of contempt from engaging in, promoting and facilitating unauthorized lending activities.
The order extends to the agents, representatives and promoters, the owners of the hosting sites and all persons acting for and on behalf of the online lending operators.
The SEC also ordered the online lending operators to cease from offering and advertising their lending business through the internet and to delete or remove promotional presentations and offerings of such lending business from the internet including the lending applications that they operate.
Furthermore, the Commission directed any and all persons and entities carrying out, abetting or promoting lending business or similar activities without the requisite license to immediately cease and desist from engaging in such lending activities until they have incorporated and have secured the requisite certificate of authority to operate as lending or financing companies.
Section 4 of Republic Act No. 9474, or the Lending Company Regulation Act of 2007, requires that a lending company be established only as a corporation. It further provides that "no lending company shall conduct business unless granted an authority to operate by the SEC."
Any person who shall engage in the business of lending without a validly subsisting authority to operate from the SEC may face a fine ranging from PHP10,000 to PHP50,000 or imprisonment of six months to 10 years or both, under Section 12 of the Lending Company Regulation Act.
Certifications issued by the Commission's Company Registration and Monitoring Department (CRMD) showed that Batis Loan, Happy Credit, Easy Cash, Wahana Credit & Loan Corp., PesoMaMa and Light Kredit were not registered as corporations or partnerships.
The CRMD further attested that the online lending operators were not issued the necessary certificates of authority to operate as lending companies nor had pending applications for such.
Investigations by the SEC Enforcement and Investor Protection Department (EIPD) confirmed the existence and operation of the online lending applications, which have been advertising on social media.
The EIPD further found that the online lending operators have gained access to personal information stored in borrowers' mobile phones, including social media accounts, contact numbers and email addresses, through their mobile applications.
The online lending operators then used such information to exact prompt payment. They would send a text blast to the borrower's contacts to inform them about the borrower's indebtedness and his/her supposed refusal to pay the amount due. In other cases, the borrower would be threatened with legal action or public shaming.
A number of complainants said the abusive collection practices of the online lending operators, their agents and representatives have caused them depression and sleepless nights, ruined their reputation and adversely affected their health.
"Considering that these Online Lending Operators are not incorporated entities or have no Certificate of Authority to Operate as Lending Companies or Financing Companies, the lending activities and transaction are illegal and must be immediately stopped by this Commission," the cease and desist order read.
"Moreover, the abusive collection practices engaged in by unlicensed online lending companies constitute unfair debt collection practices which are expressly prohibited under SEC Memorandum Circular No. 18, Series of 2019 (Prohibition on Unfair Debt Collection Practices of Financing Companies and Lending Companies)."
The SEC previously issued three cease and desist orders covering a total of 42 online lending applications for operating without incorporating and securing a certificate of authority.