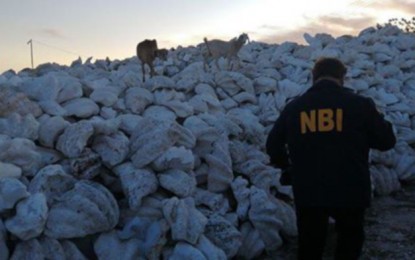 GENERAL SANTOS CITY -- Agents of the National Bureau of Investigation (NBI) seized about PHP2 billion worth of giant clams, locally known as "taklobo", in an operation in a seaside village here on Monday.
Exzel Hernandez, NBI 11 (Davao) assistant director, said they found a stockpile of giant clams in a property in Purok London, Barangay Bawing, allegedly owned by a trader of the endangered marine species.
Hernandez said they earlier received reports from local informants about the presence of piled giant clams in the area.
A team from NBI-11, which is based in Davao City, launched the raid at about 3 p.m. on Monday along with augmentation personnel from the NBI Sarangani/General Santos district office.
The operation was backed by personnel of the Philippine Coast Guard station here and the Bureau of Fisheries and Aquatic Resources (BFAR) 12 (Soccsksargen).
"We found a huge stockpile of giant clams upon reaching the site and we immediately confiscated them," Hernandez told reporters, noting that the site was already abandoned when the team arrived, which was thus not able to make any arrest.
Jose Andrew Abello, BFAR-12 fishing regulation officer, said the recovered clams, which were estimated at 120,000 tons, reportedly came from various areas.
He said these are sold in the area PHP2,000 per kg. and are reportedly used in making jewelry, cosmetic products, and even medicines.
Abello said the violators could face imprisonment of five years to eight years and a fine of PHP300,000 to PHP3 million.
The BFAR had declared the catching of giant clams as illegal because they are considered as among the endangered marine species, as listed by the Convention on the International Trade in Endangered Species of Wild Fauna and Flora and set in Fisheries Administrative Order 208.
Under Republic Act 10654, or the Philippine Fisheries Code, the "fishing or taking, gathering, selling, purchasing, possessing, transporting, exporting, forwarding or shipping out" of giant clam is deemed unlawful.
Hernandez said they were preparing the filing of charges against the owner of the property and others involved in the trading of giant clams, whom he declined to identify.
However, Rey Benitez, Barangay Bawing chairman, confirmed in a radio interview that the clams were found in a property owned by the family of Abubakar Palalisan.
But he said he had no prior information about the business activities of the Palalisans, whom he described as a big family in the area.
"Based on reports from an informant, they are allegedly engaged in the stock buying of taklobo for over a year now," he said.
Benitez acknowledged that some residents previously applied for permits from his office for the trading of giant clams but he turned them down as it is prohibited by the law. (PNA)