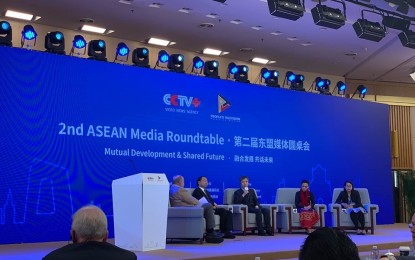 BEIJING -- The use of artificial intelligence (AI) in the media industry is seen to address the language barrier among the 10 member-states of the Association of Southeast Asian Nations (Asean) and China, an official of China Media Group (CMG) said here Thursday.
During the 2nd ASEAN Media Roundtable, CMG Acting Director-General of Asia and Africa Services An Xiaoyu said AI technology can translate languages which can be an important application of AI in media.
An noted that one of the challenges in media cooperation between China and Asean is the diverse language in the region.
Main languages in the region include Chinese, Bahasa, Burmese, Filipino, Khmer, Lao, Thai, and Vietnamese.
"Technically, we cannot reach the scale that will enable everyone to communicate with each other, but the technologies will develop quite fast," said An.
He added that China Central Television (CCTV), China's state TV network, is adopting the 5G+8K+AI technologies that will involve translations to different languages through AI, faster dissemination of media content through 5G, and higher video quality through 8K.
"That is a really good direction for us to explore the transmission to the world of communication. And I am sure that we are going to apply more AI technologies to communicate among people with different languages," An said.
Meanwhile, the Philippines' People's Television Network, Inc. chairman Julio Castillo Jr. said digital revolution is vital in the media cooperation between Asean and China.
"Acknowledging the fact that digitalization would generate progress and development and shifts in the media landscape, the importance of promoting media and information literacy within Asean cannot be overemphasized," Castillo said.
He added that it is high time for Asean and China to strengthen media cooperation to learn about the status, trends, and future development in the media industry in the region.
"Our challenge now is to ensure that we continue pushing for innovation amidst the changing broadcasting landscape and shifting lifestyles and tastes of the population, especially the youth," he said.
Meanwhile, the 2nd Asean Media Roundtable is a follow-through of the same event held in Cambodia in 2017.
This year's Asean Media Roundtable is hosted by China's CCTV+ Video News Agency and the Philippines' PTV-4. (PNA)