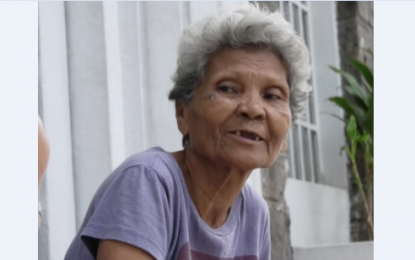 MANILA -- In the Manila North Cemetery (MNC), graves bring life to people who live on the fringes of society.
Mausoleums become home for many poor families, enabling them to live like normal communities, as they eat and sleep beside the graves.
For more than six decades, a chapel -- where two tombs lie inside -- became home to 74-year-old Aurora Mangampo, known in the area as Nanay Diday.
The adversity of life brought her and her family in the Manila North Cemetery in 1964.
"I was brought here by my brother-in-law who is a labor contractor nearby, I was then tasked to guard the warehouse until I had my own family. We stayed here. I entered every job, I became a vendor, manicurist, I also do laundry until I became a grave cleaner," she shared.
"I had three children with my first husband, we faced a lot of struggles, my older son died and my second son went into drug addiction," she added.
Nanay Diday, despite her condition, remains jolly and hopeful. Her eyes are full of mystery.
"When my husband died, I had a second chance to marry again, unfortunately, he died too," she said. "Both of them died, I felt unlucky in life."
The scenery may scare others. No one could ever imagine a life with the dead. But Nanay Diday said she has no fear of ghosts as she sits and lies with tombs.
She lives in a classically-designed mausoleum with her children and grandchildren, who are also paid to take care of these tombs.
"It's peaceful here. We're just afraid of those unruly people but its totally peaceful here as we live among the dead," she said.
"I went through a lot of struggles to live normally and peacefully here. At least I am dignified," she said.
She added that she would rather stay in the cemetery — a place where she finds peace and tranquility.
In mausoleums and makeshift structures built over tombs, her family makes ends meet every day.
Like normal communities
People who live in the Manila North Cemetery live like normal communities. Children play in these burial grounds, friends chat to ease boredom.
Inside the cemetery, there are makeshift stores selling snacks and basic necessities like soaps, shampoos, toothpaste, etc. Some of the stalls have karaoke machines. Candles are also being sold to the visitors paying respects at the grave of their loved one.
People don't pay much thought about seeing ghosts, so long that they could make a living.
They neither have electricity nor lamps to light up their nights.
Having no running water, they have to walk to the few public water pipes there, where people line up with their empty containers.
They pay to use a toilet and take a bath. It's quite a hassle for us to think, but for them, that's how they live while the normal business in the cemetery goes on.
Demolition
Meanwhile, a few days before the day of Undas, the MNC management ordered to clear makeshifts and structures in the cemetery premises where most of the people live.
The structures built in the tombs were already demolished as these have also been used as a means for illegal entry.
Hundreds of families were displaced after a team from the Manila Department of Public Safety (DPS) went in the Manila North Cemetery for the clearing operations, which started since October 10.
Among the structures removed included Nanay Diday's.
Teary-eyed, she said her family "will stay wherever life brings us."
"I hope the government could help us with this. Of course, we also want a normal life," she said. "I'm just praying to whatever God will give us. I will accept it even if it means staying here forever," she said.
Nanay Diday is one of those people who practically had no choice but live among the dead.
For a moment in her life, she found peace living in the land of the dead. (PNA)