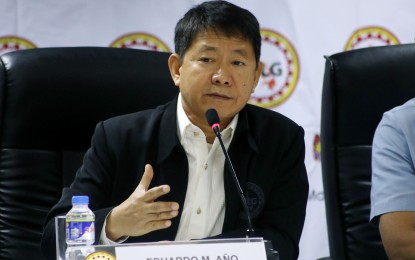 MANILA -- Local government units (LGUs) in Mindanao are now helping those affected by the magnitude 6.5 earthquake that hit parts of the region Thursday, the Department of the Interior and Local Government (DILG) said Friday.
"We assure the people of Mindanao that all local Disaster Risk Reduction and Management Councils (DRRMCs) in affected areas are convened and operational, together with DRRMCs from nearby local government units (LGUs) to supplement local efforts for the victims of the earthquakes," DILG Secretary Eduardo Año said in a statement.
"Local chief executives (LCEs) are now on the ground to assess damages and spearhead immediate response operations including the evacuation of victims, movement of injured residents, and management of the missing and the dead. Assistance from various national government agencies under the Regional DRRMC are also continuously coming in," he noted.
He added the National Government through the NDRRMC is continuously mobilizing all resources to supplement the efforts of local bodies.
Año said he has ordered the LGUs in earthquake-hit areas to immediately conduct an assessment on the integrity of structures in their respective areas.
"We ask all residents to first assess with local authorities the stability of affected structures before utilizing them again. Please cooperate with the various DRRMC entities and your LGUs to ensure your safety and well-being," he said.
Año said he agrees with the statement of President Rodrigo Duterte that structural integrity should be immediately looked at to ensure public safety.
"I already relayed the order of President Rodrigo Roa Duterte to all LGUs affected by the earthquake," he said.
"Expected aftershocks might cause the collapse of these unsafe structures which may result in loss of lives," he added.
The DILG chief also joined the nation in praying for the people of Northern, Central, and Eastern Mindanao in the wake of two strong earthquakes that shook the region this week.
"Kasama ninyo ang inyong pamahalaan, sa pangunguna ni Pangulong Rodrigo R. Duterte, at ang DILG sa pagtugon sa naiwang pinsala ng kalamidad na ito (The government under the leadership of President Duterte and the DILG will respond and help on the damage brought by the calamity)," Año said.
"In these trying times, we encourage the people to remain calm and face the challenges with the safety of the people as the first priority. Pinakamahalaga pa rin po ang buhay ng tao (The human life is very important)," he noted.
Three earthquakes hit parts of Mindanao in October.
On October 16, a magnitude 6.3 earthquake struck Tulunan, North Cotabato around 7:37 p.m. at a depth of eight kilometers.
On Tuesday, a magnitude 6.6 hit again the southeastern part of Tulunan, North Cotabato around 9:04 a.m. that reportedly caused damage to some of the structures in Mindanao.
On Thursday, a magnitude 6.5 earthquake struck anew at Tulunan, Cotabato with a depth of two kilometers. (PNA)