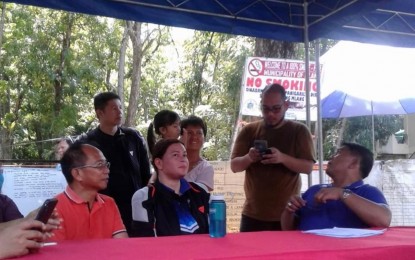 M'LANG, North Cotabato – Riding on a big bike, Davao City Mayor Sara Duterte Friday visited quake-affected areas in North Cotabato, extended aid, and vowed to send more.
Mayor Duterte, more known as "Inday Sara," received updates from local government executives and met with displaced families.
She spoke with M'lang Mayor Russel Abonado and Vice Mayor Lito Pinol in front of the town hall at around noon and handed over the cash assistance from the people of Bohol.
"The people of Davao City would help M'lang and other quake-affected areas through food packs and other relief items soonest," Mayor Duterte told Abonado and Pinol during the short program.
Abnonado lauded the Davao mayor for coming over to express sympathy to the people of M'lang.
Duterte earlier visited Tulunan and spoke with Mayor Reuel Pip Limbungan and the displaced families and vowed to send aid.
After M'lang, she proceeded to Kidapawan City where she saw for herself the partly collapsed Eva's Hotel and met with local officials before proceeding to Makilala.
President Rodrigo Duterte had earlier scheduled to visit quake-affected areas prior to his Thailand trip.
It was unclear if the mayor's visit was in lieu of his father who is scheduled to fly to Thailand Friday night to attend the 35th Association of Southeast Asian Nations Summit and Related Summits on Nov. 2-4. (PNA)