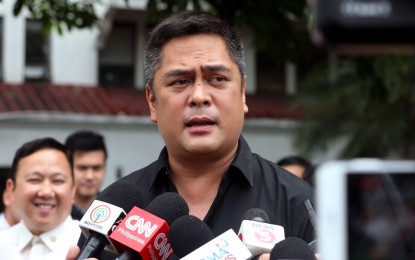 MANILA – The seized firearms and documents from the 62 suspected militants arrested during joint police and military operations in Bacolod City were "not planted," Presidential Communications Operations Office Secretary Martin Andanar said on Friday.
Andanar came to the defense of soldiers and police officers who raided the offices of progressive groups in Bacolod City, following the claim of Bayan Muna Party-list Rep. Carlos Zarate and Bayan Negros secretary-general Michael de la Concepcion that the recovered firearms and explosives were planted evidence by the raiding teams.
"We decry any claim that they were planted by our law enforcement authorities as we have proof they were obtained through legal means," said Andanar, who also serves as the communications chief of the National Task Force to End Local Communist Armed Conflict (NTF-ELCAC), in a statement."We assert that any allegations that the raids conducted were a form of harassment are simply false and we have hard evidence secured to prove our argument."
Armed with search warrants, the military, and the police raided the local headquarters of Kilusang Mayo Uno, Gabriela, and Anakpawis in Barangay Bata in Bacolod City, as well as two other offices occupied by the National Federation of Sugar Workers in Barangay 33 in Bacolod City.
Arrested during the operations were 62 people who are believed to be members of the so-called legal fronts of the Communist Party of the Philippines' armed wing, the New People's Army (NPA), which is listed as a terrorist organization by the United States, the European Union, the United Kingdom, Australia, Canada, New Zealand, and the Philippines.
Andanar lauded the joint efforts of the local police and military that led to the conduct of "bloodless" operations in Bacolod.
He said the raids were done in a "lawful, safe, quick, and precise manner," as a result of the close coordination of the agencies in the NTF-ELCAC.
"These operations show the government's respect for democracy and its adherence to the rule of law," Andanar said.
"Acting proactively from citizens' reports of suspected illegal possession of firearms and explosives by members of the NPA, our law enforcement authorities secured search warrants on four locations in Bacolod City," he added.
Andanar noted that the evidence recovered from those arrested include assorted short caliber firearms, sub-machine guns, machine guns, live ammunition, hand grenades, bladed weapons, Kilusang Mayo Uno flags, megaphones, microphones, and voluminous subversive documents.
He added that the data contained in the confiscated documents "will be carefully inspected and used as grounds to file a new set of cases."
"We condemn the deceptive revolutionary tactics that these communist terrorist organizations have employed by masking themselves as 'progressive groups' to destroy the reputation of the government," he said.
The NTF-ELCAC, he said, remains committed in its aggressive push in attaining peace through legitimate law enforcement operations and peaceful civilian measures, upon the call of President Rodrigo Roa Duterte. (PNA)